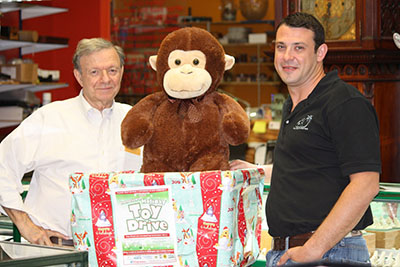 The Wellington Courtyard Shops' second annual "Keeping it Local" Toy Drive, in partnership with the Palm Beach County Sheriff's Office, has extra seasonal sparkle, thanks to Alexander Van Dell and Van Dell Jewelers & Designers volunteering as the drive's local toy dropoff site at 13860 Wellington Trace.
"The drive is all about 'bringing a smile to a Wellington child' during this special season. This is a local business. We are a local family. We have room in our hearts and our store to welcome toy donations. And who knows? Maybe Jack will bring a pony for under the tree," Van Dell joked, referring to Jack Van Dell, whose proposal for a Palm Beach Horse Park expanding Wellington's role as a top venue to include Western and American Quarter Horse competition, will be considered by the Wellington Village Council this month.
So, it could be a busy month for the Van Dell family. But Alexander Van Dell is going to focus on dazzling his Courtyard Shops guests on Wednesday, Dec. 11, when a special "Keeping it Local" shopping day will see a portion of all sales made at participating Wellington businesses benefit the toy drive.
Participating businesses include Kontiki Wine & Raw Bar, Lindburgers, Sam Jon's Salon, TCBY Yogurt, Tijuana Flats and Van Dell Jewelers.
"There's a lot of wonderful things happening in Wellington, thanks to a lot of wonderful people, including first and foremost, the Palm Beach County Sheriff's Office," Van Dell said.
To learn more about the toy drive, contact Deputy Scott Poritz portizs@pbso.org.
ABOVE: Jack Van Dell (left) and Alexander Van Dell of Van Dell Jewelers with toys donated during this year's toy drive.