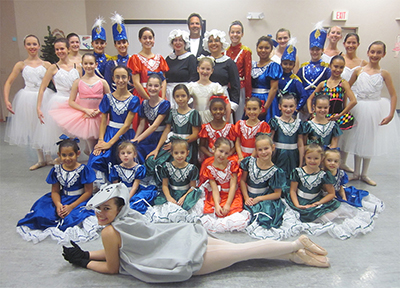 The Wellington Ballet Theatre will present The Nutcracker on Saturday, Dec. 7 at 7 p.m. at the Wellington High School auditorium (2101 Greenview Shores Blvd., Wellington).
With artistic direction by Wellington Idol 2012 and 2013 judge Rocky Duvall, the company will showcase performances from The Nutcracker, featuring professional dancers Tomas Mazuch and Emily Ricca, with additional classic selections performed by Wellington Ballet Theatre Dance Company and its young apprentice dancers. The production features choreography by Melissa Waters.
Tickets start at $12 and can be purchased at www.wellingtonballettheatre.org. Seating is reserved. Children of all ages are invited.
A free public preview of The Nutcracker will be presented as part of the Winter Dance Concert held at the Wellington Amphitheater (12100 W. Forest Hill Blvd.) on Friday, Dec. 6 at 7:30 p.m. with limited seating.
The Wellington Ballet Theatre is grateful to its sponsors for supporting the concert: the Village of Wellington, the Dance Arts Conservatory, Arrigo Fiat of West Palm and Sawgrass, Seasons Women's Care, the Pediatric Center, Rejuvia Medspa, Floridian Community Bank and Symons Family Chiropractic.
Auditions for Wellington Ballet Theatre's spring production, Snow White, will be held on Saturday, Jan. 4 at 5 p.m. at 11260 Fortune Circle, Suite J-1, in Wellington. For more information, contact Company Manager Randy Ballen at (561) 296-1880 or info@wellingtonballettheatre.org.
Wellington Ballet Theatre is a performing company and school of ballet registered as a not-for-profit and charitable organization. It provides a cultural experience by dancing historical and classical ballets as well as original and innovative choreographies. The auditions, workshops, master classes and dance demonstrations are open to all members of the dance community. Tax deductible receipts are available for all charitable gifts and sponsorships. Wellington Ballet Theatre is available for black-tie performance events and other fundraiser entertainment opportunities.
For more information, visit www.wellingtonballettheatre.org, contact Founder Rocky Duvall at info@wellingtonballettheatre.org or (561) 296-1880.
ABOVE: The cast during last year's performance of The Nutcracker.