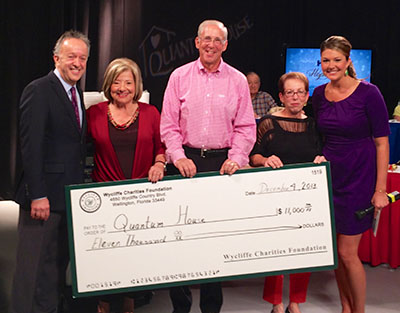 On Wednesday, Dec. 4, Wycliffe Charities presented the Quantum House with an $11,000 donation. The staff and members at the Wycliffe Golf & Country Club participated in a supply fundraiser during the month of November for Quantum House, in which numerous carloads of supplies were delivered.
Since 2007, over $41,000 and countless supplies have been donated to Quantum House by Wycliffe Charities.
The Quantum House reduces the burden for families whose children are receiving treatment in Palm Beach County for a serious medical condition. The 10-suite hospital hospitality house provides lodging, meals, care and compassion to more than 500 family members each year.
Wycliffe Charities is an organization of Wycliffe members dedicated to raising money for local Palm Beach County charities only. To date this year, Wycliffe Charities has raised over $100,000. For more information, call Alexandra Rappaport at (561) 964-9200 or visit www.wycliffecc.com.
ABOVE: Wycliffe Charities officers Marge Goldner, Steve Goldberg and Sue Webber present a check for $11,000.00 to Quantum House.