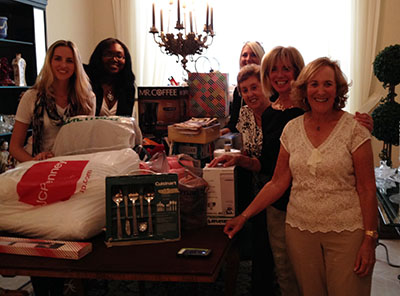 The Palm Beach Section of the National Council of Jewish Women, in partnership with Vita Nova, held a shower recently at the Wycliffe Golf & Country Club, netting hundreds of household items that will go to adolescents aging out of foster care on their 18th birthday.
Hosted by Wycliffe residents Liz Greene and Shelley Wortman, the event brought together more than 50 Wycliffe women, who brought sheet sets, pillows, blankets, towels, dishes, flatware, glasses, pots, pans and kitchen tools. These items, all new, will be packed into suitcases, laundry hampers and storage containers, and given to foster care youth who leave the system on their 18th birthday to begin life on their own.
In the past, they have had to leave the foster home with their few belongings in garbage bags and start anew.
NCJW works on this project with Vita Nova, which provides independent living skills to youth ages 16 to 23. "NCJW's LIFT program provides the necessities these young adults need to start living on their own," said Elizabeth Smiley, independent living coordinator for Vita Nova. "The NCJW LIFT project fills a huge gap for these young adults. It is so rewarding to watch them unwrap new items for their apartment and see their faces light up as they realize they are not getting hand-me-downs."
Smiley noted that the project has received the Department of Children & Families Partners for Promise Award for making a difference in the community.
Darianne T., one of the first recipients, attended the shower and thanked NCJW and the women for caring for the children in foster care. Darianne has graduated from high school and is enrolled in college, studying to become an EMT.
Christene Campbell-Gabor, an NCJW volunteer, unveiled its newest project. NCJW volunteers will provide life skills once a month to foster care youth older than 18 now living independently.
NCJW welcomes community support for these project. For more info., call (561) 790-7440 or visit www.ncjwpalmbeach.org. Learn more about Vita Nova at (561) 689-0035 or www.vitanovainc.org.
ABOVE: Jessica Joy, Darianne T., Elizabeth Smiley, Judy Traub, Shelley Wortman and Liz Greene with some of the items gathered at the shower.