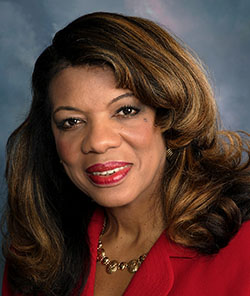 Just two months into her new role as Palm Beach County mayor, Commissioner Priscilla Taylor is throwing a party with a purpose. The inaugural Mayor's Ball on March 8 will benefit the Homeless Coalition of Palm Beach County.
The ball is a new idea, as is the role of a countywide mayor. Since the role of mayor helps raise awareness, Taylor wants to start with the issue of homelessness. "Every person should have the opportunity to have a home, have a roof over their head and be able to have a meal," Taylor said.
Taylor first began working on issues involving the homeless in 2004 while serving in the state legislature. According to a 2013 point-in-time count, there are more than 2,500 homeless people on any given day in Palm Beach County.
"Housing is our most critical need in Palm Beach County. We need more interim housing, supportive housing, apartments and houses to offer our families," Homeless Coalition Executive Director Marilyn Munoz said. "If this ball makes that possible, Mayor Taylor has made a lasting impact on our area."
The "Be Dazzled" gala includes dinner, a silent auction and dancing at the Palm Beach County Convention Center. Tickets for the event are $250. Purchase tickets, learn about sponsorship opportunities or sign up to volunteer by calling (561) 308-6880 or visiting www.homelesscoalitionpbc.org.
ABOVE: Palm Beach County Mayor Priscilla Taylor.