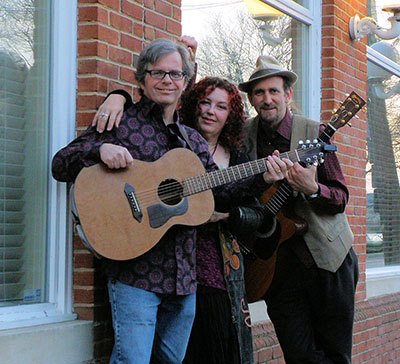 Gathering Time, the Long Island-based folk-rock harmony trio best described as a rocked-up Peter, Paul & Mary or a co-ed Crosby, Stills & Nash, will return to the Wellington Amphitheater on Thursday, Jan. 16.
In addition to the popular songs from the 1960s by the likes of Simon & Garfunkel, Joni Mitchell and the Byrds, the concert will feature original material from the group's new CD, When One Door Closes, its first since welcoming new member Gerry McKeveny on guitar and vocals last March. Showtime is set for approximately 7 p.m.
The concert will be the trio's fourth annual appearance at the amphitheater and will cap off Wellington's popular Food Truck Invasion earlier in the evening. The group has been touring, primarily in the eastern U.S., since 2008. Three days after the Wellington concert, Gathering Time will headline the South Florida Folk Festival in Fort Lauderdale.
All three members rotate on lead and harmony vocals. Stuart Markus and McKeveny switch off on bass guitar, with the latter taking most lead guitar duty, and Hillary Foxsong contributes hand percussion. All three play guitar.
The South Florida mini-tour caps a year of accomplishment for the trio, which played at the renowned Falcon Ridge Folk Festival last summer, having been voted one of three acts "most wanted to return" out of the 24 in the festival's 2012 Emerging Artists Showcase. The trio also was voted "Best of Long Island" for 2011 by the Long Island Press and had a coveted formal showcase at the 2011 Northeast Regional Folk Alliance (NERFA) conference.
Famed New York City folk DJ John Platt is a fan. "I consider them among the finest performers in the New York metropolitan area," Platt wrote. "Whatever the size of the venue, from a house concert to an outdoor festival, Gathering Time has harmonies that can charm the birds out of the trees, strong original songs, and a savvy repertoire of cover songs, ranging from traditional folk to classic rock. They appeal to audiences of all ages."
For more on Gathering Time, visit www.gathering-time.com. Video clips can be viewed at www.youtube.com/gatheringtimetrio.
ABOVE: Gathering Time's Gerry McKeveny, Hillary Foxsong and Stuart Markus.