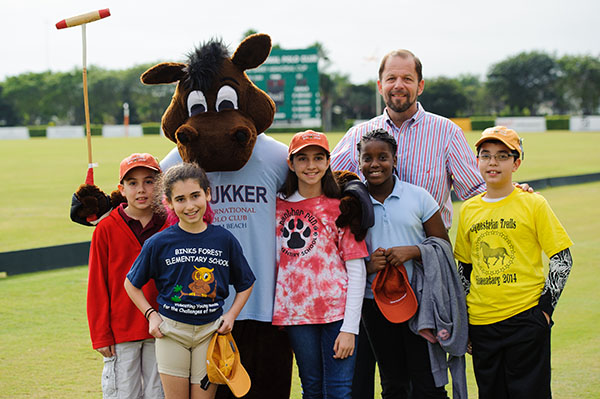 Championship Field at the International Polo Club Palm Beach resonated in shouts, giggles and whoops on the annual Fourth-Grade Polo Day held Jan. 21.
Championship Field is usually reserved only for Sunday high-goal polo competition on the perfectly graded and manicured lawn that measures nine times larger than a football field. However, Fourth-Grade Polo Day is an exception.
The day is all about the children who participate in an educational morning designed to teach local youth about a sport that dominates Wellington during the winter polo season. Five elementary schools participated: Panther Run, New Horizons, Binks Forest, Equestrian Trails and Wellington.
Four of the world's top professional polo players — Luis Escobar, Mariano Aguerre, Michele Dorignac and Matias Magrini — gave instruction on the game, from selecting the ideal polo pony to wielding a mallet and mastering three basic shots: the back shot, the neck shot and the tail shot.
The professionals, and their children, ages 5 to 11, played a two-chukker exhibition match for the students. The box seats in the stadium, normally reserved for members, were filled with fourth graders digging into their complimentary goody bags for treats and cheering on the players as they charged down the field.
During the halftime divot stomp, which by tradition usually includes complimentary champagne, juice boxes were provided to the children. The trophy presentation was highlighted with ice cream bars for everyone.
IPC has hosted its annual Fourth-Grade Polo Day since 2002, sharing the excitement of the sport with local youth in an ongoing effort to grow the sport of polo. Enthusiasm for the game continues to grow in the United States, with the United States Polo Association's current roster exceeding 4,500 members, many of whom are female players. Over 250 clubs, and intercollegiate and interscholastic schools, are registered with the USPA. IPC is committed to the support and growth of junior players, assuring a bright future for the sport.
IPC hosts the largest field of high-goal polo teams and the most prestigious polo tournaments in the United States. The 2014 season opened Sunday, Jan. 5, and concludes with the Maserati U.S. Open Polo Championship final on Sunday, April 20.
Polo matches are open to the public, with a wide range of hospitality and guest seating that includes elegant grandstand viewing, field tailgating, lawn seating, field-side champagne brunch and exclusive sponsor boxes. Tickets start at $10. For more information, or to book a special event year-round, call (561) 204-5687 or visit www.internationalpoloclub.com.
ABOVE: IPC President John Wash and mascot Chukker with students from Wellington's elementary schools. PHOTOGRAPHY BY LILA PHOTO