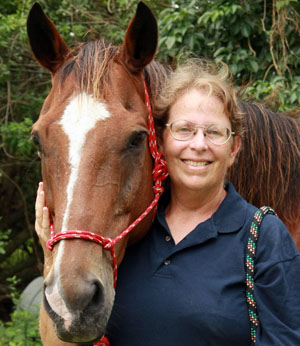 TALES FROM THE TRAILS
The excitement and energy flowing through the South Florida Fair last Friday evening were as clearly evident as the smells of barbecue and fried dough. Opening night couldn't have been more perfect — cool but not too cold, no wind, clear skies. Eager crowds packed the midway, everyone bundled up in coats and jackets.
I skirted through Yesteryear Village, enjoying the laid-back ambience as always, then cut through the Sundy Feed Store, where foodstuffs of a different variety were offered for sale: peppers, lettuce, tomatoes, corn; all farm-fresh and locally grown. The bee people had honey, the Rare Fruit Council's display was mobbed, and children ran their hands through the large baskets of rice and flour set on the floor for just that purpose.
I followed an older couple out the front door. They looked left and saw the large tent.
"Horses!" said the woman, spying the sign identifying it as the horse tent. "Let's go look at the horses."
I, too, was there to look at the horses, and with some trepidation, I walked alongside them, thinking back to horse tents of the past.
Not the distant past, when the horse tent had been filled to overflowing with horses from all corners of Palm Beach County and beyond, horses of every color and type and discipline, riders jockeying for schooling space in the ring, shows and competitions scheduled every night and all day on the weekends.
In the recent past, the horse tent had more resembled a ghost town, where one searched in vain for a horse.
Which would it be this year?
The floor was invitingly covered in a thick bedding of fresh shavings, and right off the bat, I spied some horses. Three stalls on the left were occupied by a small bay, three minis, and a bay and palomino. Despite the alarming signs, prominently displayed on every stall — "Warning: Horses will Bite / Stand Back From Rail" — these horses all seemed of the non-biting type, and people were risking life and limb to reach through and pet them.
The 30 stalls at the back of the tent were identified as though they were parts of New York City, in line with this year's fair theme. The four aisles dividing them were Upper Manhattan, Lower Manhattan, Broadway and Grand Central Station. Kids had made signs for each stall highlighting the various sights to be seen in each locale: Lincoln Center, Chelsea, different playbills, and track numbers and times of the next train's arrival or departure.
And there were horses in the stalls! Many horses, along with people milling about, riders and visitors. I relaxed and found myself smiling. This was a lot more reminiscent of the old tent, a lot more welcoming to the visitors who wandered into the horse tent expecting to see horses. And, this year, they certainly did.
Heidi Speaker and her 11-year-old daughter, Alexandra Ortiz, of Boynton Beach, were busy tacking up Angus, their 9-year-old pony. Ortiz is part of the Charismatic Cowgirls 4-H Drill Team, which was getting ready to present a demonstration ride.
"This pony was a rescue," Speaker said. "We got him in 2009, and he's a great pony, so safe. Alexandra has done very well with him. They were 4-H State Champions in Hunter/Jumper, and High Point Grand Champion in the 2013 Horseman's Children's 2' Pony classes. They carry the flag in the drill team."
Speaker explained that the Palm Beach County 4-H Equestrian Team had helped set up the horse tent, placing the festive American flags around the small arena's rail and spreading the shavings. "The drill team and 4-H are good for kids," she said. "They need this kind of nurturing, especially if you're a single parent. It helps ground them before they get swept away in all the other things life has to offer."
It is 4-H Team Director Shelly LeConte's eighth year bringing 4-H kids to the fair.
"We're very proud of our kids," LeConte said. "We currently have 22 members. The club is open to all kids, ages 8 to 18, and you don't need to have a horse. We meet twice a month and do a lot fun things, like the drill team, a pre-vet program, horsemanship school and riding. It's a good, wholesome program, and helps keep kids out of trouble."
LeConte laughed as she explained that she has never actually seen the fair. "I never get out of the horse tent, except sometimes to get ice cream in Yesteryear Village. "We're really looking forward to Sunday, Jan. 26. It's 4-H Day in the Horse Tent. We're having a show with English, Western, trail and jumping from 10 a.m. to 9 p.m., just for 4-H members. We're expecting 30 to 50 entries. It should be a great day of fun. We hope everyone comes out to watch and support us."
The crowds had gathered around the larger arena in the tent next door, where horses and riders milled about, getting ready for the evening's activities.
Jacqi Murray of Weston watched, along with her husband, Brian, and two children. "We came to check out the horses," she said. "They're pretty. The kids are very intrigued. I don't see a pony in their future, but definitely pony rides."
The drill team members wheeled about, ready to present their eight-minute choreographed ride. They had been practicing twice a week since August. The crowd whistled and applauded loudly.
The horse tent was a success.
For more information about the Palm Beach County 4-H Equestrian team, call LeConte at (561) 252-1432.