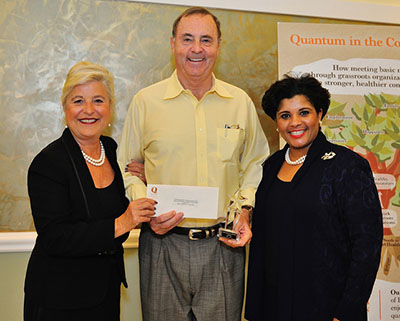 Meals on Wheels of the Palm Beaches, which provides nutritious meals to homebound seniors, recently received grants totaling more than $70,000 from four local foundations.
The money will be used to help expand the three-year-old program in 2014 — both geographically and in the number of seniors it serves.
Following extensive reviews, Meals on Wheels of the Palm Beaches received a $20,000 grant from the Quantum Foundation, a $20,000 grant from the Edward T. Bedford Foundation, a $15,000 grant from the Walter and Adi Blum Foundation and a $15,000 grant from the Mary Alice Fortin Foundation.
"These grants are extremely important to the success of our program, and we're grateful to all these foundations," said Charles Ring, executive director of Meals on Wheels of the Palm Beaches. "Because we choose not to receive any government funding, we rely heavily on the community for support. These organizations have been leaders in helping us provide meals to older residents in need."
In addition, Extraordinary Charities — a local nonprofit organization that promotes charitable giving — recently selected Meals on Wheels of the Palm Beaches for inclusion in its 2014 Directory for Charitable Giving.
Currently serving about 14,000 meals a year in the West Palm Beach area, Meals on Wheels plans to increase that number to 20,000 meals in 2014, as it expands to provide meals for Lake Worth and Riviera Beach residents
"We will also be needing additional volunteers as we continue to grow," Ring said. "By next year, we'll have 100 to 110 trained volunteers preparing meals or making deliveries."
Meals on Wheels of the Palm Beaches is a nonprofit organization dedicated to nourishing and enriching the lives of the homebound. An affiliate of the Meals on Wheels Association of America, the organization provides nutritious midday meals to those who are unable prepare their own.
To find out more about how you can volunteer for Meals on Wheels, or how you can make a financial contribution, visit www.mealsonwheelspalmbeaches.org or call (561) 802-6979.
ABOVE: Meals on Wheels Executive Director Charlie Ring receives a grant award from Quantum Foundation trustees Donna Mulholland (left) and Ethel Isaacs Williams (right).