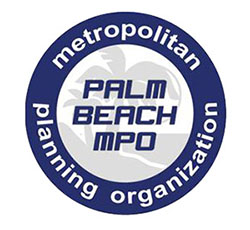 The Palm Beach Metropolitan Planning Organization is conducting a survey of residents to see what they think is needed, or not, in the county's transportation plan.
The Directions 2040 survey is part of a 25-year forecast based on regional needs to project travel demand, evaluate system alternatives and select options that best meet the mobility needs of the county, with consideration of financial, environmental and social constraints.
"The MPO is tasked with deciding at a local level how to invest federal and state transportation dollars in projects we want to include in our long-range plan, and build in our short-range plan projects that our communities love and our economies need," Executive Director Nick Uhren told the Town-Crier Wednesday. "In order to gauge the projects the communities love and the ones that they really want, we're doing this transportation survey to solicit public input."
The input sought is not limited to projects that can be done in the next 25 years.
"These are projects that we could be potentially funding as early as next year and constructing in the next five to six years, depending on the magnitude of the project," Uhren said, explaining that looking forward 25 years helps see that the projects fit together. "Our job is to predict revenue over 25 years and then identify projects that we can afford to build with that revenue projection — but that's the first step in determining how to spend money next year."
Both the long-range and short-range plans must not only fit together, but also be affordable, he said, explaining the connection with long-range planning and short-term implementation, first by putting projects into the plan that are deemed important enough to spend money on, then deciding which projects to implement and start spending money on.
"Sometimes the MPO people's eyes glaze over because we say it's a 25-year long-range plan, and they think, 'Well, I'm not going to be in Palm Beach County in 25 years,' or 'It's hard for me to see value in that exercise,'" Uhren said. "This is not merely a long-range exercise. This is a short-term funding document that determines what we can spend money on as early as next year."
He explained that the county maintains a five-year road program that determines what it is going to build with local-option gas tax and impact-fee dollars, and how it is going to use those revenues to build projects.
"In addition to that, the MPO adopts what is called a Transportation Improvement Program," he said. "That's the federal and state five-year program for how we're going to invest those revenues in transportation projects in our community."
The latest TIP plan was adopted in June, and information is available at www.palmbeachmpo.org/tip.
"I think the key to the survey [is that] it's somewhat open-ended in the beginning, and that's because we want to know if there is something we are doing poorly today and something to fix it," he said. "We want that kind of input, and it can be as simple as, 'Man, the lights are so poorly timed' — we can put in a system to make the lights work better — or: 'I go west on Southern, and there should be a right-turn lane to go into Costco. There's no right-turn lane going into Costco today, and I'm always afraid someone's going to rear-end me' — we can build you a right-turn lane. Those are the kind of projects that we would like people to give us input on."
The MPO also seeks input on multi-modal transportation, such as dedicated bike lanes or pedestrian paths that will make local facilities more accessible. "We're looking for community input so we can do good things," Uhren said.
He said projects that have been identified by the MPO as desirable include the widening of Okeechobee Blvd. from Seminole Pratt Whitney Road to Crestwood Blvd. and the construction of a flyover at Okeechobee Blvd. and State Road 7.
"The other one that continues to be popular is the State Road 7 extension up to Northlake," he said. "Those are projects that on a regional scale were all identified as good ideas last time, and we'd be happy to hear comments on whether those are still good ideas. We ask the board members to provide that type of input as well."
Uhren added that a total of four flyovers on Okeechobee Blvd. and the construction of Roebuck Road, a proposed traffic alternative to Okeechobee Blvd., are all in the long-range plan. "Roebuck is shown right now in the county's five-year program as being constructed with bond revenue in year five, but it has been in year five for several years. Every time they come up with a new program, they push it back a year, so it's not advancing, but it's not disappearing, either."
He said the MPO's long-range plan shows a need for both Roebuck Road and a flyover at SR 7 and Okeechobee.
"That's one of those questions for Royal Palm Beach and residents of the western communities — would you like to see one instead of the other?" Uhren said. "Are either of those so egregious to you that you want to say, 'Even if we're stuck in traffic, we don't want to build these projects?'"
The Directions 2040 survey is available online in English at www.palmbeachmpo.org/survey. Printed copies in English and Spanish are available at Palm Beach MPO, 2300 N. Jog Road, 4th Floor, West Palm Beach, FL 33411, or by calling (561) 684-4170.