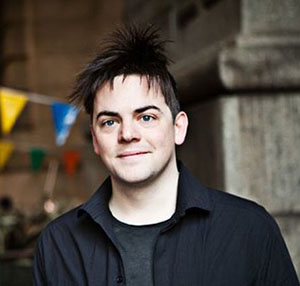 The Palm Beach Symphony's Feb. 3 concert "Tubes & Pipes" will be held at the historic Bethesda-By-The-Sea Episcopal Church. It will highlight a Nico Muhly fanfare especially commissioned to celebrate the symphony's 40th anniversary season.
The present-day composer's work will reflect his fast-pace and bold style as the symphony's brass and percussion section delivers its pomp.
The premiere will feature trumpets as the motor behind the piece, while the percussion and trombones offer rude and somewhat menacing interjections. Toward the end of the short salute, drums and bells begin to imply that there are two different tempi at work. Appropriate for the seaside location, trumpet fanfares, loosely borrowed from Debussy's La Mer, will rush the piece to its close.
An American contemporary classical music composer and arranger, Muhly has worked and recorded with classical and pop/rock musicians. He has composed a wide scope of work for ensembles, soloists and organizations, including the American Ballet Theater, the American Symphony Orchestra, the Boston Pops, Carnegie Hall and the Chicago Symphony, and collaborated with the Icelandic pop singer Björk and rock musician Usher, among others. He is perhaps best-known for his score for The Reader, the 2008 Stephen Daldry film starring Kate Winslet and Ralph Fiennes. Last fall, Muhly made his Metropolitan Opera debut with the cyber-saga Two Boys, and his music is already on Broadway as a part of The Glass Menagerie.
"We are excited to perform the current work of Muhly in marking the 40th year of the Palm Beach Symphony," said Artistic & Music Director Ramón Tebar, who will also be conducting the anniversary performance. "The mix of old and new perfectly relates to the celebration of our history and the mission to engage our audience. The tempo of the concert will express our sincere desire to do so and is sure to entertain."
"Tubes & Pipes" will be held on Feb. 3 at 7:30 p.m. and will also feature Harold Pysher on the Bethesda-By-The-Sea Episcopal Church's grand organ. General admission tickets are now on sale for $50, and student tickets are $10.
Memberships are also still available for Palm Beach Symphony's anniversary season.
For more information on tickets and membership opportunities, call (561) 655-2657 or e-mail info@palmbeachsymphony.org.
ABOVE: Nico Muhly