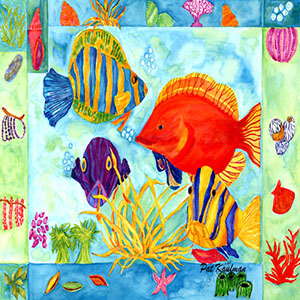 Pat Kaufman is the featured artist at this month's Whole Foods Market Gallery (2635 State Road 7, Wellington). An opening reception is set for Friday, Feb. 7 from 6:30 to 8 p.m.
The Whole Foods Market Gallery is in the large café, lined with windows which offer nice natural lighting — a perfect setting to display art.
Whole Foods will provide music, hot and cold appetizers, and drinks. A $5 donation is requested, which will benefit the Wellington Art Society's Scholarship Fund.
An award-winning, self-taught watercolor artist, Kaufman is known for her bright, tropical, Key West-style of paintings. She lives in one of the historical districts of Delray Beach with her son Trey, a disabled veteran.
"I am inspired by the wonder of color," she said. "The transparency and spontaneity of watercolors gives life to my paintings. Here in Florida, and other places I have visited, there is so much color all around you. When I observe the trees blowing in the breeze, the sunlight dancing off the leaves or the light shining through blossom petals, it inspires me to paint them and see if I can capture this dance of light."
Kaufman is an accomplished artist whose work has been displayed at Delray Beach City Hall, the American Orchid Society, Cadillac Headquarters and the Cornell Museum. She is a member of the Palm Beach Watercolor Society, the Delray Art League, Artists of Palm Beach County and the Wellington Art Society. For more information, visit www.patkaufmanart.com.
Founded in 1981, the Wellington Art Society is open to artists of all mediums and patrons of the arts, providing both local and regional artists the platform to share their work, learn more about their craft and serve the community through their art. The Wellington Art Society is open to any resident in Palm Beach County.
For more information, visit www.wellingtonartsociety.org.