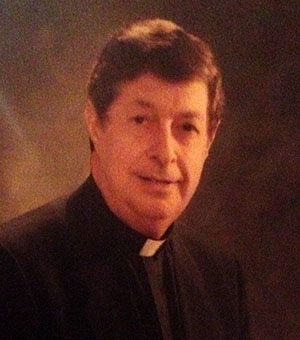 Father Salvatore Profeta, or "Father Sam," as he was affectionately known, died Jan. 23 at age 92.
A longtime Wellington resident, Father Sam was assigned early on after ordination to Florida State University in Tallahassee as the school's Catholic chaplain.
He loved working with college-age students in helping them cope with the stress of college life and helped keep them on the "straight and narrow path" of Christian brotherhood.
After many years working with students, Father Sam was assigned to the Diocese of Miami to become a regular parish priest in Hollywood and other Catholic churches in Broward County. It was at this time of his life he had a vision to help the poor of the world.
Father Sam had a special love to assist and reach out to the poor and less fortunate, regardless of sexual orientation, skin color or ethnic background.
Father Sam prayed to Mary Madonna of Christ, and during a vision, decided to bring Mary to all in the world as a "beacon of hope" for the poor.
His vision told him to create a statue of Mary Madonna of the Poor, and through volunteer help from his parishes and local generous friends, he found a foundry in Pennsylvania to create the white cement statue for all to pray to for helping the poor.
In the mid-1980s, Father Sam took his statue to Vatican City for review and approval. The Pope and the Holy See approved his statue and allowed him to send it to whoever wanted it on display.
Using volunteers from his church, his nonprofit foundation solicited funds for statues, delivery systems and brochures publishing his ideas. This became the famous Mary Madonna of the Poor Ministry.
Today, more than 35 years after his statue was sent at no charge to thousands of churches and other places, Mary can be seen in gardens, home yards, church grounds, affluent churches and poor churches around the world. She is widely seen on display in Europe, South America, Asia, North America, Latin America, Australia and elsewhere.
Father Sam's 92-year legacy speaks for itself. Locally, in Wellington, his statue can be seen on the grounds of St. Rita Catholic Church along the sidewalk of the Parish Hall, to the left of the main entrance.
ABOVE: Salvatore 'Father Sam' Profeta