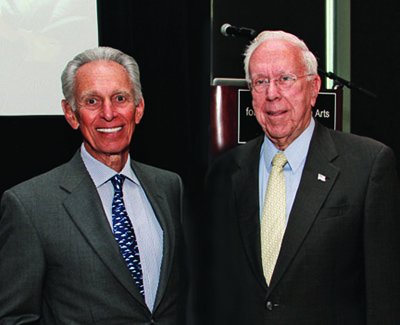 Amin J. Khoury, founder, chairman and CEO of B/E Aerospace, and a member of the Kravis Center for the Performing Arts' Board of Directors, received an impressive round of applause recently when he provided an overview and a lively question-and-answer session on his Wellington-based manufacturing firm at the season's first Kravis Center Corporate Partners Business and Breakfast Series, held in the Khoury Family Dance Rehearsal Hall.
With more than 10,000 employees and revenues last year topping $3.1 billion, B/E Aerospace manufactures aircraft cabin seating, lighting systems, oxygen systems, food and beverage preparation and storage equipment, galley systems and modular lavatory systems, and distributes aerospace fasteners and consumables globally.
"To experience growth and sustained profitability in all global markets, we must invest in advanced education," Khoury said. "In particular, if the United States is to continue to set the standard for excellence, we must provide education for future engineers, chemists and physicists."
Kravis Center CEO Judith Mitchell introduced the series and welcomed nearly 100 guests, recognizing founding chair Alexander Dreyfoos, immediate past chair William Meyer and new chair Jane Mitchell.
Kravis Center Corporate Partner members are corporate and professional leaders in Palm Beach County whose mission is to support and enable the Kravis Center to continue its extensive educational and community outreach programs. Corporate Partner membership offers leaders the opportunity to act as an integral part of the Kravis Center, building awareness of the center within the business community.
The Kravis Center for the Performing Arts, located in West Palm Beach, is one of the premier performing arts centers in the Southeast, with a renowned national and international reputation. Established as a leading force in the social fabric of the community, the Kravis Center's many outreach programs are as broad and varied as the community itself. To date, the center has opened the door to the performing arts for approximately 2 million school children, as well as thousands of economically disadvantaged senior citizens, minorities and community groups.
For general information about Kravis Center performances and events, visit www.kravis.org or call the box office at (561) 832-7469.
More information on the Corporate Partners Program is available by calling Julie Hetherington at (561) 651-4201 or e-mailing hetherington@kravis.org.
ABOVE: Amin Khoury and George Elmore