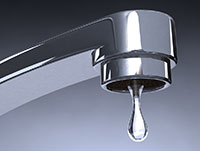 The Wellington Village Council voted Tuesday to stop adding fluoride to the village's water.
The vote divided the council 3-2, with Mayor Bob Margolis and Councilwoman Anne Gerwig dissenting. Vice Mayor Howard Coates, Councilman Matt Willhite and Councilman John Greene said they wanted to give residents the choice of whether or not to ingest fluoride.
"I will defend to the death people's right to choose what chemicals go in their bodies," Coates said. "Especially when I believe the sole basis for those chemicals being put in [the water] is for medical purposes."
The fluoride issue arose earlier this month when some council members asked to review the fluoridation decision first made 15 years ago.
The issue of fluoride in public drinking water has long divided communities across the country since the idea was first introduced in the 1940s. Fluoridation has been supported by many major health organizations in the United States, including the Centers for Disease Control & Prevention, the American Medical Association and the American Dental Association.
Proponents argue that adding fluoride to the water is beneficial for teeth and helps reach populations that do not regularly receive dental care.
Other organizations have opposed fluoride, claiming it could have unintended consequences, introduces unnecessary additives into the water and is unnecessary in affluent communities where the population typically can afford dental care.
Village Engineer Bill Riebe explained the history of Wellington's fluoridation. In 1999, the council approved an ordinance to introduce fluoride into the village's water supply. Fluoridation began Aug. 21, 2000.
"We've not had any incidents with fluoridation," he said. "We have not received any reports of adverse health effects from the medical community, the public health community or any of those organizations, or from any individuals in the Village of Wellington. We are not aware of any issues with fluoridating the water."
Riebe said the council was tasked with deciding whether fluoridation is necessary in Wellington. "There's ongoing debate," he said. "This has been a controversial issue since [fluoride] was brought to the U.S. in the 1940s. The major health organizations… seem to be in support of continuing to fluoridate drinking water. On the flip side, there are groups and individuals who do not want fluoridation for a variety of reasons."
Representatives from both sides of the issue were out in full force to plead their cases.
Palm Beach County Health Department Dental Director Philippe Bilger, who is a dentist, said that fluoride is needed in the water supply to help prevent tooth decay in all populations, no matter the socioeconomic level.
"I'm very much in favor of fluoridation to prevent tooth decay in persons of all ages and socioeconomic backgrounds," he said.
His sentiments were shared by other medical professionals, including about a dozen dental hygiene students from Palm Beach State College, who showed up for a firsthand lesson in public policy.
Dr. Robert Rotella, a dentist and Wellington resident, said that the CDC strongly supports water fluoridation, especially for children.
"Tooth decay affects more children in the United States than any other infectious disease," he said. "Untreated tooth decay causes pain and infections that could lead to problems eating, speaking, playing and learning."
But several Wellington residents asked council members to let them decide how much fluoride their children ingest.
Some council members pointed to this as evidence that a majority of residents were against the practice, but Margolis noted that only about 20 residents had written to council members on the issue.
"I have heard more about the community center and the tennis center than I am hearing about fluoride in the water," he said. "To sit here and say residents don't want it is untrue."
Resident Tracey Powers said she is against putting "a drug" in Wellington's water system. She said her son developed issues at a young age when she was told to add fluoride to his vitamins.
"It says on toothpaste and other items that fluoride is a drug, and if you swallow more than the amount of a pea, you should call poison control," she said. "There are hundreds of scientific studies… that say fluoride reduces IQs in children. The American Dental Association found that high levels of fluoride results in fluorosis."
Powers asserted that fluoride was brought to the public by companies looking to cast off toxic waste. "I don't deny that topical fluoride might have some benefits, but for a government to forcibly put it in our water and have everyone drink it is ridiculous," she said.
Though the medical community refuted claims that fluoride causes harm, Coates worried that evidence could arise in the future proving fluoride is dangerous in drinking water.
"We have newfound scientific discoveries every day," he said. "We may discover that fluoridation for the past 65 years has been causing a lot of these unexplained illnesses we see in this country."
Willhite wasn't convinced that adding fluoride to the water benefits the community.
"When I take my kids to the dentist, they don't ask me where I live to know if there is fluoride in my water," he said. "How do you know that the fluoride they are ingesting is benefiting them? You don't see them all the time."
Willhite said he contacted several fluoride companies to ask for evidence that fluoride is beneficial but did not receive any responses. "None of them wanted to talk about it because none of the suppliers want to weigh in whether or not I should put it in my water," he said.
Willhite asked Village Manager Paul Schofield for his opinion on fluoridation. Schofield said his professional and personal opinions were at odds.
"My professional opinion is that there is a preponderance of evidence that says fluoridation has public health benefits," he said. "My personal opinion is that if we were not already fluoridating, I would not recommend that you do it."
Greene said he has been researching the issue and found that several products, including toothpaste and dental floss, provide fluoride.
"If fluoridation of our water was the only way we could get fluoride into our bodies to prevent tooth decay, I would support it," he said. "What if 10 years from now we discover this practice of fluoridating water was not in the best interest of the public? I don't see any harm in stopping this, because there are so many other sources of fluoride."
Gerwig noted that the public drinking water is heavily treated with other processes besides fluoride.
"There is a lot that goes into making sure we have a safe drinking-water supply," she said. "Right now, all the information I have that is based on science says we are doing something beneficial [by fluoridating the drinking water]. I'm looking to my health professionals to make this decision."
Margolis also said he had to stand behind the scientific evidence. "The science is there," he said. "The CDC has said there is an additional 25 percent decrease in cavities when putting fluoride in the water. That's the facts."
Further, Margolis said that when times are tough, families and those with financial difficulties will forgo costly trips to the dentist.
"There is no question in my mind that fluoride is beneficial to kids and to seniors who can't afford to go to dentists," he said. "You can decide based on your feelings, but I am deciding based on the science and evidence. And there is a very beneficial reason for fluoride to be in the drinking water."
But his arguments fell on deaf ears. Willhite made a motion to remove fluoride from the water. Coates seconded the motion, which passed 3-2 with Margolis and Gerwig opposed.
Riebe said Wellington would stop adding fluoride to its water supply beginning Wednesday.