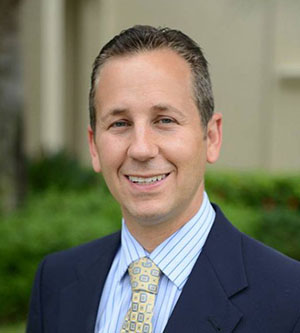 Wellington resident Matt Kurit announced last week that he will run for Seat 3 on the Wellington Village Council, challenging incumbent Vice Mayor Howard Coates in the March 11 municipal election.
Seat 2, currently held by Wellington Councilwoman Anne Gerwig, is also up for election. She faces a challenge from Sharon Lascola. Candidates have until mid-February to qualify for the ballot.
Kurit is an Ohio native who moved to South Florida when he was 7 years old. He moved to Wellington in 2004 with his wife, Kathy, and their two daughters, who attend Emerald Cove Middle School.
Kurit and his family live in the Olympia neighborhood.
"We love the parks and recreation facilities and the schools," he said. "Wellington's schools were a major selling point. The kids love it here. The wife loves it here. I love it here. It's a beautiful place to raise kids."
Kurit works as an executive sales representative for Johnson & Johnson, a company he has been with for more than 16 years. He has a bachelor's degree from Ohio State University and a master's degree in business administration from Florida Atlantic University.
Kurit was appointed to Wellington's Education Advisory Board in 2008 and served for four years. He said he filed to run because he wants to continue his service to the community.
"I want to step up and serve my community," he said. "I thought it would be a great opportunity to help maintain the village's quality of life and make sure we're doing everything we can to assist with schools. The small-town quality of life and the great schools are the main reasons I moved my family here."
He said he chose to run against Coates because the incumbent did not have a challenger, not because he has any specific issues with him.
"I have a lot of respect for him," Kurit said. "I have nothing against him personally. I wanted to serve my community, so I decided to run for the seat. I want to bring a fresh perspective to the council."
Kurit said education will be a priority, noting that he was glad to see Wellington bring back its education grants this year.
"Having great schools increases our property values," he said. "I want to work with local businesses and find grants so that we can raise funds to make sure our schools continue to be high-quality. If we have great schools, we'll attract more people to the community and see our property values rise."
Kurit also wants to limit development to Wellington's more commercial areas and would fight to keep green space in the village.
"I want to make sure we don't give up green space that has been designed to be kept that way," he said. "If a developer wants to come in, I'm all for it, as long as the development is kept to designated areas. I'd hate to see us give up green space we can never get back. I would look to other areas for development, and maybe provide incentives to minimize encroachment into green space."
Kurit vowed to be a voice of compromise on the council. "I want to do what's best for Wellington," he said. "I want to try to work things out so all sides are happy."
Transparency is another issue Kurit is concerned about in Wellington. He said that although the village is transparent in some areas, it could provide better access to residents, especially online.
"There are still ways to make sure we improve transparency in Wellington," he said. "I'd like to see residents able to look online and easily find out what is going on, or find the paperwork they need."
Kurit said residents should choose him because he will be their voice. "I'm looking forward to serving residents and hope I'm given the opportunity to serve," he said.
For more information, visit www.facebook.com/MattKuritForVillageCouncil.
Coates is a Palm Beach County native and longtime Wellington resident who was appointed to the council in 2009. He ran unopposed for his seat in 2010.
Coates has a bachelor's degree from the University of Florida, a law degree from Yale Law School and a master's degree in business administration from Florida Atlantic University. He has practiced law in Palm Beach County for nearly 25 years.
Coates and his wife, Cheri, have four children. He has served on several boards, including as president of the South Palm Beach County Bar Association, the Boys & Girls Club of Wellington and the Legal Aid Society of Palm Beach County.
Coates did not return calls for comment by press time.