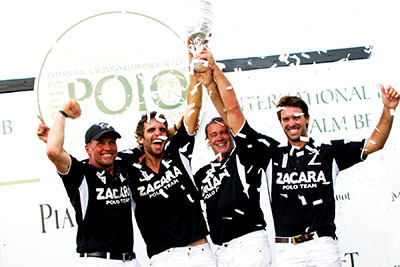 Sunday brunch, divot stomping, champagne toasts and the excitement of high-goal polo return to the International Polo Club Palm Beach as the season kicks off this weekend with the Herbie Pennell Cup Finals on Sunday, Jan. 5.
The season continues through April 20, culminating with the prestigious Maserati U.S. Open Polo Championship Final, and there's something for everyone.
This year's competition is shaping up to be more exciting than ever, with some of the best players in the world battling on IPC's pristine fields.
"The competition is always fierce," IPC President John Wash said. "This year, we have five of the six 10-goal players in the United States back with us. This is coveted grounds for polo. Players come from all over the world to play here."
The Herbie Pennell Cup Finals begin at 3 p.m. Sunday, with competitions to determine the final teams played earlier this week.
Opening day is sure to be exciting, with an appearance by legendary actor, singer, dancer and Tony Award winner Tommy Tune, who will kick off the match with his rendition of the national anthem.
"We're really excited to have Tommy Tune joining us for the coin toss," Wash said. "On opening day, the SuperCar HorsePower Show will be here with some spectacular racecars to kick off Super Car Week."
It's the second annual SuperCar HorsePower show. The nine-day regional exotic car show gives guests the opportunity to see high-end, high-performance cars. The show is free before 11 a.m.
Guests can enjoy an exciting day of polo and the car show with brunch in the Grand Pavilion, or from the stadium stands, bleachers or tailgating.
"It's really a family event," Wash said. "Sunday is the only day we charge admission, and it starts at $10 for bleacher seats. You can sit on the lawn stadium bleachers for $20, or you can come out and have a full-service brunch for a whole different experience in the Grand Pavilion."
Wash said he expects 2014 to be one of the club's best years yet for polo.
"We continue to see increases in attendance each year," he said. "It's amazing to see people come from all over the world just to be a part of this."
He encouraged families to come and check out the Wellington Zone, complete with a kids' area, and enjoy a fun day. Wash said you don't have to know a lot about the game to fall in love with it.
"It's an exciting game. It's fast-paced, but it's an easy game to learn," he said. "There are people there to explain the game; our announcers do a really good job of that."
If you can't make it out to the International Polo Club — and really, you should — you can catch some of the season's top games now on NBC Sports.
IPC partnered last year with the U.S. Polo Association, bringing several matches to the NBC Sports Network, where they were broadcast across the world. This year, the Maserati U.S. Open Polo Championship will be broadcast on the main network. "I think the more people who see the sport and understand it, the bigger we will grow," Wash said. "We're looking to introduce people to the sport, and I believe we can keep this momentum growing."
The International Polo Club Palm Beach is located at 3667 120th Ave. South in Wellington. For tickets, call (561) 282-5334. For more info., call (561) 204-5687 or visit www.internationalpoloclub.com.
ABOVE: Zacara's Mike Azzaro, Magoo Laprida, Lyndon Lea and Facundo Pieres celebrate after winning last year's U.S. Open title at the International Polo Club Palm Beach. PHOTOGRAPHY BY LILA PHOTO