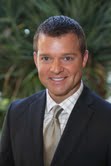 Jay Cashmere, local anchor and reporter for WPTV News Channel 5 and WFLX Fox 29, has been elected to serve as the Forgotten Soldiers Outreach national chairman. The nonprofit group has been sending monthly "We Care" packages to troops serving overseas for more than a decade. To date, FSO has touched the lives of more than 350,000 soldiers since beginning is mission.
Cashmere has a long history of service with Forgotten Soldiers Outreach, since it was founded 10 years ago by Executive Director Lynelle Chauncey Zelnar in her Lake Worth home. He has supported the charity from its beginning and was hooked after his first story on the work of FSO.
"It's my honor to sever as your chairman picking up where Bob Nichols left off," Cashmere said. "We are so thankful for his direction, leadership and confidence in FSO. I look forward to continuing the mission for our troops with the rest of our board, our team and all our volunteers. I can't think of a better way than to join hands with FSO and say thanks to all who fight for our freedom."
Cashmere has served as vice chairman on the board since the beginning of the charity and will be replacing South Florida television personality Bob Nichols. Nichols has served the charity as its chairman since its beginning.
"My time as chairman has been very rewarding, and I'm grateful to have had the opportunity to help FSO bring giant morale boosts to those brave young men and women who have volunteered to serve and protect the freedom all of us enjoy as Americans," Nichols said.
"I couldn't be more excited that Jay will be taking over the helm of the board of directors," Zelnar said. "He has been such an incredible supporter of our mission, and his support of family, community and his work makes him the epitome of what FSO is all about."
Cashmere has worked in South Florida for 12 years. He has also been involved with several other charities across the Palm Beaches and the Treasure Coast. He enjoys golf, surfing, cooking, exercising and being a father. He and his wife Kelly welcomed their son Cruz into the world in July 2012. They also rescued a Great Dane in 2012 named Jake.
Other board members elected to positions on the FSO board include Nichols as immediate past chairman, Chuck Debevec as vice chair, C. Annelies Mouring as secretary, Art Snow as treasurer, Elizabeth Varian as director and Dennis Bixler as director.
For more information about Forgotten Soldiers Outreach, or to volunteer with the group, visit www.forgottensoldiers.org or call (561) 369-2933.
ABOVE: Jay Cashmere