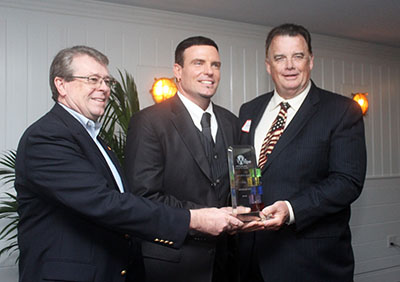 The Wellington Chamber of Commerce honored Rob Van Winkle, better known as Vanilla Ice, with its Outstanding Citizen of the Year Award at a luncheon Wednesday, Feb. 26.
"I'm honored. This is amazing," Van Winkle said. "One person can't do it alone. I'm honored to be a part of Wellington."
The award is given to the citizen who has shown outstanding service to the community, Chamber President Victor Connor said.
"Every year since 2010, Rob Van Winkle has helped draw more than 6,000 people each year to WinterFest," he said. "His spirit of giving, dedication to our community and outstanding efforts go beyond anything you could ask."
Van Winkle, who has been a Wellington resident for more than 10 years, is also active in helping local charities such as Toys for Tots and Little Smiles. His show, The Vanilla Ice Project, has exposed a national audience to Wellington, showcasing its beautiful homes and amenities, Connor said.
Former Wellington Mayor Darell Bowen said he first reached out to Van Winkle to participate in WinterFest.
"For the last four years, he has been an integral part of that event," Bowen said. "Over the years, I've learned of the generosity that comes from his heart. It's with great honor and pleasure that I'm able to stand here and present this award to him, because there's no one more deserving."
Van Winkle said he partnered with Toys for Tots eight years ago at the urging of his friends and business partners. In that time, he has raised more than $2 million in donations to help sick children.
"We never expected it to grow the way it did," he said. "It has turned into something magical. That's what being a part of the community is all about, creating awareness about issues. I really appreciate all of your support."
Van Winkle said his passion for giving back to those less fortunate was sparked when he was asked to visit a sick fan as part of the Make-A-Wish Foundation.
"He was a huge Vanilla Ice fan, and they brought me in to meet him," he said. "I walked in his room, and he's got two Vanilla Ice posters on the wall. He was so excited. It was the most amazing feeling, to be there for this kid. I realized that moment was magical, and from that point on, I made it a priority to go out and make a difference. We all can."
He said Wellington has been a very giving community, noting that he often visits the Children's Hospital at Palms West to bring some cheer to the sick children.
"To see so many people who care and spread the word about these issues is amazing," he said. "It really makes a difference. These kids' smiles… give you a different perspective on life. You realize that life isn't about war, the economy or stress — it's about the here and the now. If you can wake up with a smile and go to sleep with a smile, you're blessed."
Van Winkle said he will continue to give back to the community, with big plans on the horizon to raise even more for the great causes. "I thank you all for your support in everything we do," he said.
For more about his projects, visit www.vanillaice.com.
ABOVE: Rob Van Winkle, better known as Vanilla Ice, was honored Wednesday as Outstanding Citizen of the Year by the Wellington Chamber of Commerce. Shown here, former Wellington Mayor Darell Bowen (left) and Wellington Chamber President Victor Connor (right) present Van Winkle with his award.