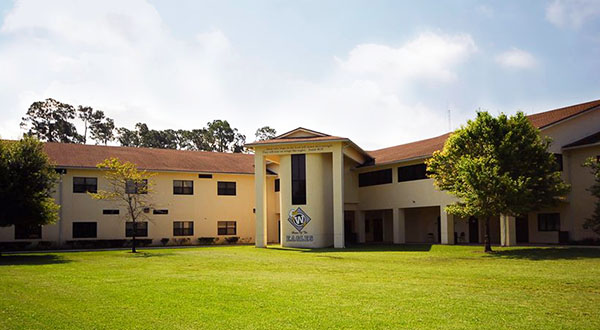 After mounting a fight to save its high school, parents of Wellington Christian School students were shocked last week by the news of a decision by Wellington Presbyterian Church leaders to close the school entirely and sell the site it sits on.
A $9 million contract has been offered to church leaders from an undisclosed source, but parents have mobilized efforts to find a source of financing that could purchase the property and keep the school together.
Last Thursday, parents were mailed a letter from the Session — the group of elders and leaders at Wellington Presbyterian Church that governs its operations.
"We are at a point in the history of the church and school where important, long-range decisions must be made and, at this time in the life of the church, it is the Session's opinion that we must redirect the ministry of Wellington Presbyterian Church by closing the school after the completion of this school year, selling the property and relocating to a new site," the letter explained.
Wellington Christian School is owned and operated by Wellington Presbyterian Church, though families do not have to be members of the congregation to attend the school.
Late last year, parents were notified that because of financial constraints, the school might have to cease offering high school classes. A group of parents mounted an effort to find funding, but church leaders said it would need a $1.6 million commitment to keep the high school running.
"We had a very large group who worked together with the information we got in December hoping to impact change with the high school," said parent Lainie Guthrie, who spearheaded the fundraiser. "I don't regret doing that event. A lot of people supported us, like the entertainers and the Village of Wellington. I'm sad we weren't able to accomplish what we set out to do."
WCS PTF President Nathalie Drahos, who has two daughters in the school, said parents were assured just recently that the school would continue to offer a pre-kindergarten through eighth-grade education.
"We knew for a while that funds had been low, enrollment had decreased — especially in secondary — and the cost of running a high school is high," she said. "When the news of the possibility of the high school closing broke, we were saddened and, yes, worried about the future of the rest of the school. But we were assured soon thereafter that plans were in place for WCS to remain open as a pre-K through eighth-grade school, and that the current program model involving those grades would be strengthened."
Interim Pastor Peter Bartuska, who took over at the church in October, said the Session hoped to see the school remain open. "When the announcement to close the high school was made, the intention was to raise enough money to keep it open," he told the Town-Crier Wednesday. "The whole school was not in jeopardy at that point. We planned to continue with pre-K through eighth grade."
Some parents have questioned that assertion.
"The speed at which they arrived at the outcome — selling the property — makes it seem like this was decided a long time ago," said George Greene, who has children in second and fourth grades. "It seems like someone already laid the cards down and just needed the opportunity to do this."
Bartuska said the decision to close the school was not made until the last possible minute, when the Session felt it could not afford to keep the school open. He noted that this is enrollment season for many schools and church leaders knew parents would need time to find a new school.
"We really had come to a point where we could not afford to operate the school," he said. "We had hired a financial consultant to help us put a business plan together, and were working toward saving pre-K through eighth grade through the 2014-15 school year."
Drahos said she was "shocked, speechless and very confused" when the news broke. "This came without warning," she said.
The school has seen a steady decline in enrollment since 2008, Bartuska said. When news broke that the high school might close, he said elementary numbers dwindled even more. "There was a level of uncertainty that impacted a lot of parents' decisions for re-enrollment," he said.
Bartuska said the Wellington Presbyterian Church congregation is stable. "There will be an effort to relocate the church," he said.
At meetings with parents earlier this week, church leaders announced that an offer of more than $9 million has been made to purchase the property, but nondisclosure agreements prevented them from saying to whom the property could be sold, leading to speculation.
"There are people worried that this was some kind of a plot by a developer to appropriate the land to put condos up," Greene said. "That is what is terrifying. I can't imagine anything would go there that would bring this level of family values and keep it a small, family-friendly community."
Greene said some parents reached out to other Christian schools and congregations to see if anyone would take over the school. "From what I heard, the way the church has resolved themselves is to sell the property, not lease it," he said.
The church congregation must still vote on whether to sell the property, Bartuska said. The sale would be dependent on a rezoning of the property, but no further information was provided.
Greene said he found it hard to imagine that nothing could be done to save the school.
"It's hard to imagine that with a piece of property worth $10 million, there was no mechanism in place to do anything to recover from this or come up with a solution," he said. "Given the financial mechanism, with 500 students paying $1,000 a month in tuition, and the affluence of the community we live in, I can't believe there are no other options. I think someone was resolved to offload the property and get out from underneath it."
Bartuska said the offer to purchase the property was made to the church on Jan. 2, and church leaders hoped to see fundraising efforts come through.
"We had every intention to keep the school running," he said. "The offer was not made before we announced the decision to close the high school."
Had parents known that the entire school was in jeopardy, Greene said the community might have worked to find a solution. "If we had known we were in danger of losing the school and having everything torn apart, we could have done something," he said.
He said he and other parents have started letter-writing campaigns to anyone who might help — from the stars of Duck Dynasty to former Congressman Allen West.
"We want to see if there's someone out there who can appreciate the significance of what we are losing," Greene said. "We're trying to keep this community together. It would be sad to see all of these families go off separate ways."
Wellington Christian School has been in the community for more than 30 years, expanding to serve more than 500 children from throughout the area. Parents and staff alike describe the community as close-knit, with generations of families that have grown up in the classrooms together.
"We love Wellington," Bartuska said. "We've ministered here for more than 30 years, and it's heart-wrenching to think of leaving. It's no shock to us that this is emotional. We feel the weight of that and want to do everything we can to help."
Several area private schools have offered options, holding informational meetings for WCS families who are now displaced. WCS Headmaster Dr. Tim Sansbury said the school will host an open house featuring several of them.
"We contacted all of the private schools in the area and invited them to come in," he said. "It's an open house for our families who are trying to decide what to do next year. It's not the situation we want to be in, but we want to make the best of the situation we are in."
Drahos said the other schools have been helpful.
"They have also committed to helping our transition into these new schools be as seamless as possible," she said. "Selecting a school is a difficult choice to make. You go on tours with fellow parents and friends and know that you may be separated in the end, but you go through the process together anyway."
As students finish the year at WCS, Sansbury said his staff will continue to focus on education.
"We want to continue doing the best job we can for our kids," he said. "In the classroom, we want to make sure everything continues. We want to offer the best educational environment we can. While we're all hurting, we want to try and work well together."
For the many staff members who are now without a job, Sansbury said they can use teacher administration days — typically reserved for planning for the following year — to look for work. "This way they're not having to take days off from teaching to look, and parents know that students will continue to have their teachers in class rather than a substitute," he said.
Guthrie said that all the money raised in the effort to save the high school will go to the WCS teachers.
But for many, they are losing not just a school but a community and a family.
"It has been devastating," Drahos said. "It's like we've been evicted from a life we loved with no notice. We've found ourselves displaced and in desperate need to push forward to find a resolution to our problem. For many of us, WCS is the only school our children have known. I think it's unfortunate that the only Christian school in Wellington, in existence for more than 30 years, is closing."
ABOVE: The Wellington Christian School campus.