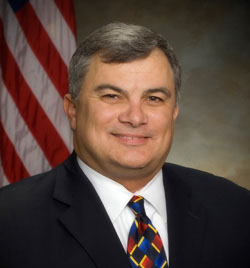 Wellington Vice Mayor Howard Coates hopes Wellington voters will give him another four years when he faces a challenge from resident Matt Kurit next month.
At the close of qualifying on Tuesday afternoon, four candidates had qualified to run for two seats on the Wellington Village Council in the Tuesday, March 11 municipal election. Coates and Kurit will vie for Seat 3, while Wellington Councilwoman Anne Gerwig and resident Sharon Lascola both filed for Seat 2.
Coates has served on the council since 2009, when he was appointed to a one-year term after now-Mayor Bob Margolis stepped down to run for Palm Beach County Supervisor of Elections. In 2010, he won a full term unopposed.
Coates has a bachelor's degree from the University of Florida, a law degree from Yale Law School and a master's degree in business administration from Florida Atlantic University. He has practiced law in Palm Beach County for nearly 25 years. Coates said that his legal experience — and most notably his mediation experience — has been a benefit on the council.
"I think my legal experience, on many occasions, has been a positive, especially with the quasi-judicial issues we have had," Coates said. "I think it has been beneficial for the council to have one of its own members with a legal background. And I think my mediation experience, for better or worse, has helped bridge the gap."
Coates is a longtime Wellington resident. He and his wife, Cheri, have four children. He has served on several boards, including the Boys & Girls Club of Wellington and the Legal Aid Society of Palm Beach County.
"I've watched the community grow," he said. "What I've recognized is that nothing stands still. What I think is important is how we manage our growth to preserve the quality of life and hometown atmosphere that makes the community such a great place to live."
Coates said that he is seeking a second term to continue the progress made over the past several years, especially with infrastructure improvements.
"We've made great progress in creating a central part of Wellington with the construction of the amphitheater and Scott's Place, which were all built in the time I've served," he said. "We've completed the restoration of Forest Hill Blvd., and also made a lot of progress in improving the drainage situation in the equestrian area and throughout Wellington. We have made infrastructure improvements to provide us with services for decades to come."
Coates said he has been an independent voice on the council, helping to bring consensus on what have sometimes been divisive issues.
"I have worked not to be co-opted by any special interests, which has allowed me to be much more independent than the average person," he said. "I try to bring people together rather than have some of the division we have seen. I can still serve that role, and I think there are issues where that role is important."
He said an example of this was his push for a settlement in issues surrounding the Equestrian Village site. "I was always an advocate to push us along a settlement path," Coates said. "I consider that an accomplishment."
He believes that the village has finally begun to heal after several divisive years.
"I think some things will take a while to heal, but all of the council has made a conscious effort to make things better," Coates said. "We all recognized that the personal attacks and vitriol were not productive and not favored in the community. I think everyone has taken big steps to get past that."
If re-elected, Coates said he would see through many of the planned drainage programs. He would also like to see the council take another look at the medical arts district concept, as well as create a plan for the K-Park property.
"One of the most important things is that we have the infrastructure in place to avoid the flooding we saw with the most recent storms," he said. "I'd also like to see a cohesive vision for K-Park that is the consensus of the council. I'm still committed to it being public land, and I think it should be used for a public purpose."
The planned medical arts district fell apart when Wellington couldn't bring some of the property owners together, Coates said. "I do not want to let that potential idea die," he said. "If we could develop that area in a way that creates jobs and has long-term sustainability, I'd like to keep that high on the agenda."
He encouraged voters to choose him as an independent voice that will advocate for the best interest of residents.
"I think if you're looking for someone truly independent on the issues, who votes in the best interest for all of Wellington, I have shown time and time again that's the way I vote," he said. "I want to help maintain balance in the community, between the businesses and residential portions, as well as all the other facets of the community."
For more information, visit www.facebook.com/ReElectHowardCoatesForWellingtonCouncil.
Kurit is an Ohio native who moved to South Florida when he was 7 years old. He moved to Wellington in 2004 with his wife, Kathy, and their two daughters.
He is an executive sales representative for Johnson & Johnson and holds a bachelor's degree from Ohio State University and a master's degree in business administration from Florida Atlantic University.
Kurit was appointed to Wellington's Education Advisory Board in 2008 and served for four years.
He said he is running to put a priority on local schools and recreation facilities, as well as the preservation of green space.
"I want to assist our local schools, as well as our parks and recreation programs to make sure they continue to be a top priority," Kurit told the Town-Crier Wednesday. "I also want to be sure we continue to preserve green space."
If elected, Kurit said he'd also like to revisit the fluoridation of Wellington's water, noting that many residents have expressed concern at the council's decision last month to remove fluoride from the water.
"I'm committed to listening to both sides of every story and making sure we do what's best for Wellington's future," he said. "A lot of people have brought the fluoride issue to my attention. I think it needs to be looked at again from a scientific standpoint. We need to look at the data, which I believe shows having fluoride in water is beneficial as a whole. I'm not sure we took the side of Wellington on that one."
For more information, visit www.facebook.com/MattKuritForVillageCouncil.