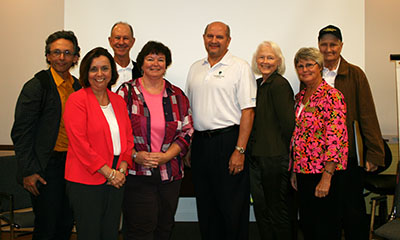 On Thursday, Feb. 20, approximately 30 people gathered for an interactive presentation by Palm Beach State College representatives regarding the building plans for the 75-acre new PBSC campus in Loxahatchee Groves.
Hosted by the Central Palm Beach County Chamber of Commerce, the forum provided an opportunity for residents to suggest what sort of classes and degrees they felt would be advantageous to the community, a chance to voice concerns over traffic issues and the ability for college representatives to get community feedback.
Key speakers included PBSC Vice President of Administration Richard Becker and Jose Murguido of Zyscovich Architects.
Other college officials attending the forum included Dean for Curriculum & Education Technology Dr. Ginger Pedersen, Vice President for Academic Affairs Dr. Sharon Sass, Dean of Health Sciences and Public Safety Dr. Jacqueline Rogers, Facilities Director John Wasukanis, Facilities Planning Manager Kirk Stetson and Director of College Relations Grace Truman.
When the school realized in 2004 that it was time for a campus in the western communities, a long search for the right piece of land commenced.
"We were looking for a piece of property that was north of Lake Worth Road, west of the turnpike, east of 20-Mile Bend and south of Northlake Blvd. There were five to seven different properties that we looked at," Becker said. "When this property became available, it offered access to State Road 80 and the ability to get people from east to west quickly. That is the prime reason we looked at this property. If things go well in Tallahassee this spring, it is our intention to break ground on our first building late this summer or early fall. If everything goes well, sometime around January 2016, we'll have our first building built and ready to house classes."
The campus will be located at the northwest corner of Southern Blvd. and B Road.
Key to the master plan is to make the school seem as though it belongs in the location, keeping as many trees as possible and utilizing the cleared area for initial buildings, Murguido said.
Building placement will take advantage of the views available, with a buffer between the developed areas and the vegetation, allowing the campus to be integrated into the natural setting. The first structure will be a 50,000-square-foot building, which is relatively small, Murguido said.
Officials said that the school is being built with the community in mind, and the main focus of the meeting was to obtain community members' options, thoughts, concerns and input.
Residents pointed out a desire for a veterinarian program, as the closest program is located in Gainesville, adding that courses in horticulture and landscape design would be advantageous.
There were suggestions for programs that already exist at PBSC, or would be in conflict with the other colleges and universities, such as lab programs, biotech programs and nursing programs. There were also questions regarding traffic impacts to the B Road and Southern Blvd. intersection and the quality of those roads.
Murguido reassured residents that as much vegetation that can be kept, cypress trees included, will be, and in instances where trees have to be cut down, more will be planted. He also explained that studies are being done to ensure that the environmental integrity of the site will be maintained, especially concerning water tables, ponds and providing enough water for the vegetation.
"We are making it a net-zero-ready building. That is a strategy that will evolve as the architecture evolves," Murguido said. "We have a long way to go, but we would like to utilize passive systems and alternative power wherever we can."
ABOVE: Officials attending the Palm Beach State College forum included (L-R) Jose Murguido, Grace Truman, Kirk Stetson, Dr. Ginger Pedersen, Richard Becker, Dr. Jacqueline Rogers, Dr. Sharon Sass and John Wasukanis.