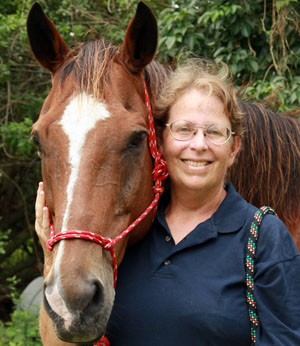 TAILS FROM THE TRAILS
"Is this here all the time?" Joe stood, transfixed, gazing around the show grounds in Wellington.
It was Saturday night, Jan. 11, and a group of us had come to watch the Battle of the Sexes, part of the Jumping Under the Stars series held each Saturday night during the Winter Equestrian Festival at the Palm Beach International Equestrian Center on Pierson Road.
"Every weekend through the end of March," I assured him.
I'd suggested an evening out, and my two cousins, Jerry and Gloria, had taken me up on it, along with Jerry's son, Joe, and his two children, Loren, 8, and Josh, 12. We'd come in two cars. "In case the kids get bored or tired, and we want to leave early," Joe explained.
The show grounds were packed. It had been a blustery, windy week, but the skies had magically cleared hours before the start of the class, and the weather couldn't be better. We headed over the children's area and watched the kids put away their handheld devices and start interacting with the real world. They slid down the tall, inflated slide, took turns at the shooting gallery, rode the carousel, visited the petting zoo, observed the face painting and ran around with the other kids.
We watched the thrilling class as the men's and women's teams battled in a series of three speed events. The women were victorious, though it was close. Afterward, we all got snow cones or ice cream. We were all smiling.
"I never knew all of this was here," Gloria said, looking at the families streaming past. "Why isn't there more publicity?"
"I don't know," I answered.
Jerry, Gloria and I left at 9:30 p.m. Joe and the kids headed back to the fun and games section.
"We're definitely coming back here again," Joe declared as the kids dragged him off. "It's so much fun, and amazingly affordable."
Indeed, the only fee had been a $20 per vehicle parking fee. Everything else (except food) was free: all the games, the rides, the carousel — all of it. A night of family fun for $20 is a real bargain.
The following Friday night, Jan. 17, I was back in Wellington to watch the Wild West Show, part of the Friday Night Stars series held during the Adequan Global Dressage Festival on South Shore Blvd. That was the week winter arrived in South Florida, and everyone was bundled up for a night of fun. This was a totally free event, with no parking fees.
Loop Rawlins performed trick roping, whip cracking and fancy gun spinning. Jessica and Gena Cox, Brandon Perdue, Melody McRay, Arthur Antone and rodeo clown Rusty McRay entertained the packed stands with Roman riding and extreme trick riding. One of the riskiest-looking stunts was when Melody McRay jumped over a blazing bar while standing on the backs of two horses. Not something to go home and try!
"It takes a few years to train a horse to do this," Perdue said. "I start them as yearlings, hauling them around to shows and exhibitions, to get them used to the sights and sounds. When they're 2, I start them with small things, like carrying a flag and riding in the Grand Entry. Then I teach them a few tricks, and eventually they get worked into the act as they mature and can handle it. These horses have to be quiet, dependable and have good minds. We're hanging down, our heads inches from their galloping hooves. Our lives depend on them being quiet and not spooking."
Fifteen women rode an exciting barrel race, which was won by Amanda Weekly from Davie in 16.00 seconds. The most astounding part of the evening was Australian Guy McLean on his second visit to the area. I was lucky enough to have watched him the first time, a few years back, and was still amazed to watch again.
He entered the arena riding one horse Western. The other three had no tack on them whatsoever. During the next 30 minutes, he had them performing amazing feats: changing direction, moving separately or together, cantering around in a perfect pinwheel, halting — seemingly without a cue. He set the three horses in a barrel pattern and then ran around them as if they were barrels.
All three horses are Australian Stock Horses by McLean's stallion, Nugget (now retired), and looked like a matched set, all duns with darker manes and tails. The most amazing part was when McLean had one of the horses lay down, then side-passed over him. And if that wasn't enough, he had the other two horses join him, standing unconcernedly over the prone horse. Then he stood up on two of the horses and cracked his bull whips. Don't try this at home, either.
The following night, Jan. 18, Gloria, Jerry and a friend joined me back at the Palm Beach International Equestrian Center for the $50,000 Wellington Equestrian Realty Grand Prix CSI 2*. The sun set, taking all the heat with it. Even heavy coats weren't enough to ward off the cold.
We watched the 44 riders, from nine different countries, tackle the tough course, which more than one pair didn't complete. A couple of riders had clear rounds and just missed the jump-off with a one-point time fault. McLain Ward was doing great, then heartbreakingly had a rail down on the last fence.
Nine managed to go clear, and Ronan McGuigan on Capall Zidane won the jump-off, going clear in 39.92 seconds. Todd Minikus on Quality Girl was second, and Nicholas Dello Joio on Carlos V.H.P. Z third.
"It's so exciting, and the horses are beautiful," Gloria commented as we headed back to the car.
So the next time you're trying to think of something fun and different to do on a Friday or Saturday night, throw everyone into the car and head out to the show grounds. Any age, horse-savvy or not, you'll have a great time. Just try to pick a night that's not too cold.