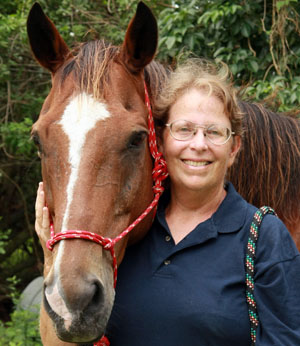 TALES FROM THE TRAILS
Some weekends, it seems you can't throw a stick without hitting a horse show, especially if you're standing in or near the Jim Brandon Equestrian Center. Which is where I was one Saturday in January, visiting the second day of the new Citrus Series Horse Show. The inaugural show had begun the night before with jumping under the lights.
James Lala is running the monthly, year-round series with hunter, jumper and equitation classes. As he explains, it was inspired by a need he saw to give developing horses and riders an easy way to safely get show miles before moving up to bigger venues. Most of the shows aren't rated, except for the June shows.
"I see this circuit as a step up from Posse and Horsemen's," he said. "The classes are open to horses and riders of all levels, amateur to professional. The goal isn't to collect points or win a year-end award, but to better horses and riders."
He promises a truly unique show series. "I wanted it to be everything you wished you could have in a show," Lala said. "One of the most unique features is we allow unjudged do-overs, so if you mess up a line, you can try it again right there and then and get it right. As time permits, riders can have unlimited do-overs. The point is to make it educational — a real learning opportunity."
Lala said the show is very affordable. There are no membership or office fees, only a $35 medic fee. Classes and schooling are $25 each if signing up in advance, or $35 the day of the show.
Other differences: There are no championships or reserves, no divisional winners; for that matter, no ribbons of the usual sort, blue through green. Instead, competitors receive orange ribbons, to go along with the show's citrus theme.
"Something else we're doing differently is that you don't have to stay in any one division throughout the year," he explained. "Usually, when you ride a circuit, you stay in the same division with the same horse through the entire year. Since we don't have any year-end awards, that doesn't apply. Riders are free to enter different divisions through the year, moving up or down as benefits the horse, or even during the day of the show. There's no point chasing, so this opens up many more opportunities to use this as it's intended, for quality schooling."
For Lala, the focus should be teaching a green horse or an inexperienced rider how to best complete a course, judging distances and pace. "No one is penalized or rewarded for going too fast or too slow," he said. "There aren't any jump-offs in the jumper classes. No one comes in first or last. It's even OK for adults to ride ponies, and if a horse is for sale, you can put an orange sticker on your number and get some free advertising."
Coats and breeches are required attire for hunter classes, and jumper riders can wear polo shirts. "R" rated Dee Thomas judged the first show.
Carrie Wirth works with Lala on the new series.
"Our first Friday night classes were fantastic," she said. "We had a good turnout. Saturday was a bit lighter, but I know a lot of folks are planning to come to the February show. This is a great opportunity for horses to learn how to get around a quality course, the same types of jumps you'd see at the Winter Equestrian Festival. They love the courses and the footing. We're excited and optimistic."
Holly Harris, from Palm Beach Gardens, brought two green horses, and her friend, Jeri Jones, visiting from Maryland, brought one.
"We did the 2-foot-9 jumpers," Harris said. "It was amazing, great footing, the staff incredibly helpful, very friendly and accommodating. I felt catered to. The jumps are gorgeous. This is a great place for green riders or horses to get a leg up in the show world. I definitely recommend it. It's great fun and very affordable. I'll absolutely come back next month."
So far, the response has been positive, Lala said. "Everyone loves the idea of do-overs. This is very much a work in progress, and we'll tweak things as we go along to make it exactly what the riders feel they need and to make the shows more fun," Lala said. "We want this to be a place where you can hang out and have fun with your horse, get miles without having to spend piles. We're wide open to ideas and suggestions. If there's something you wish we'd do, let us know, and maybe we will."
This is different from the average show. You're competing against yourself, trying to do the best you can rather than beat others.
"Our first show was fantastic. We had about 25 to 30 riders. I watched horses get better and better as the show progressed," Lala said. "Someone told me she got a month's worth of training in an hour. That's a successful show."
To see show dates, class lists and more information, visit www.citrus series.com or call (561) 906-6668.