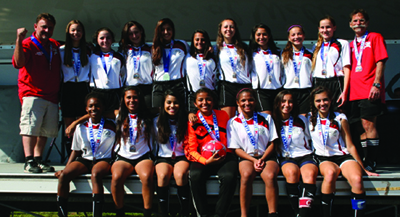 The American Youth Soccer Organization (AYSO) held its state tournament at Wellington's Village Park Jan. 18-20. Over 100 teams from across the state participated in the state games.
The Okeeheelee Heat U16 girls team won their division and claimed the state championship. The same team also won the state title in 2012. The U16 girls team is comprised of young women who live locally and range in age from 14 to 16. In the final game on Monday, Jan. 20, the Okeeheelee Heat girls defeated Weston 2-0.
The Okeeheelee U10 girls, U14 girls, U14 boys, U19 girls and U19 boys also claimed the state title.
The Okeeheelee U16 girls state champions will be competing for the national title in July 2014 in Torrance, Calif. Teams from all over the country will be participating.
The estimated cost for players and coaches to travel and spend a week in California is $50,000. The league is seeking donations to assist in making the dreams of these 18 young women become a reality, and giving them the opportunity to represent their state and country at the AYSO National Soccer Championships.
Donations are a tax-deductible contribution to a nonprofit agency. Checks can be made out to AYSO 345, and can be mailed to 17314 61st Place North, Loxahatchee, FL 33470.
For more information, contact Head Coach Mike James at Mikejamesnc345@yahoo.com.
ABOVE: (Front row) Ashley Johnson, Priscilla Cruz, Vania Cancela, Yvette Baez, Imani Tillet, Jennifer Li and Maxine Furtado; (back row) Head Coach Mike James, Ariana Mouring, Kristina Picard, Naomi Kelly, Ashley Vecchio, Elle James, Alex St. Germain, Victoria Jaimes, Barbara Prol, Joan Fyfe and Assistant Coach Paul Picard.