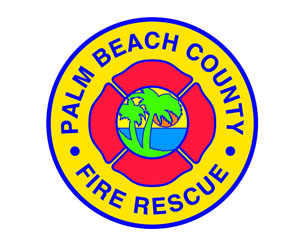 Battalion Chief Michael Arena, commander of Palm Beach County Fire-Rescue's Battalion 2, gave his annual report to the Royal Palm Beach Village Council on Thursday, Feb. 20.
Battalion 2 is headquartered in Royal Palm Beach. The battalion had 3,610 emergency calls in 2013, of which 2,689 were medical in nature, and 306 were vehicle or boating accidents. The department responded to 65 fires, most of which were minor.
Of the 2,689 medical calls, 2,181 resulted in the transport of patients to local hospitals. The 306 vehicle accident responses resulted in 283 transports.
Arena said that call volume has remained fairly stable over the years. However, response time in Royal Palm Beach went up 13 seconds in 2013 — from 5 minutes, 48 seconds to 6 minutes, 1 second.
Arena pointed out that the current response time is still among the best in the county.
Contributing to the 13-second increase was a 2-second increase in dispatch time, a 1-second increase in turnout time from when the station alarm goes off to when the trucks are rolling out the station, and a 10-second travel time increase due to travel through construction areas, increased traffic congestion and the physical location of the incidents, which tended to be farther away from the fire stations on average in 2013.
Structure fires were kept to a minimum. "When we do have a structure fire, we respond with three fire engines, two rescue trucks, which are our medic units and our transport trucks," Arena said.
The battalion also has a ladder truck at Station 29 on Belvedere Road in Royal Palm Beach, as well as four others throughout the county.
There are two fire stations located in the village, which receive support from outlying stations.
"Any time we do have an incident, we are getting assistance from neighboring stations, whether it be from Wellington or The Acreage or somewhere else," Arena said. "That's part of the regional system we have, and that's how we work to strive to keep the system as efficient as possible."
Arena said that installation of smoke detectors and other alarm equipment has helped keep fire calls to a minimum.
Arena noted that many homeowners may be eligible for discounts on their home insurance due to recent premium evaluations that improved the rating for all properties located within 5 miles of a fire-rescue station.
"The insurance companies are aware of that, and that's a good thing," he said. "We've been striving to improve that ISO [Insurance Services Office] rating for many years, and we're very proud of that."
The department is in the process of implementing a GPS system to verify the locations of fire hydrants throughout the county.
"We've got them all in our computer base, and we will continue to improve that," Arena said. "Out here in Royal Palm Beach, our water system is excellent. The outskirt areas are improving, and we'll continue working on that. This saves us time when there is a fire, because as we all know, water is one of the most important resources, secondary to manpower."
The department also has been working on traffic lights and how they adjust for emergency responses.
"We have not gotten to Royal Palm Beach on that yet, but it's one of the areas that we will do as we go through the county," Arena said. "We hope to get that at all the major intersections in the county, where the light is green when the emergency apparatus has to go through."
The department recently replaced its old brush trucks with four smaller vehicles that are capable of responding more quickly. One is located at Station 28 in Royal Palm Beach, one in Wellington and two in north county.
"They're a little bit of a smaller vehicle than our old brush trucks, which allows us some agility to get into the wildland/urban interface and allows us to protect homes that we can't access with the larger trucks," Arena said.
The battalion also strives to be present at local community events. "They are still subject to getting calls, but we rotate them in so we can keep a presence there," he said, adding that units are kept outside community events, where getting emergency vehicles in and out quickly might become an issue.
The department also has volunteer community response teams that help fire and other disaster victims get back on their feet.
Arena said the majority of the department's time is devoted to continued training. "Things are constantly changing, and when we respond to medicals or serious fires, people's lives are at stake, seconds are important and the training that we receive enables us to put that into action," he said.
Royal Palm Beach had 629 annual business inspections in 2013, 413 home inspections and 309 new construction inspections. In 2013, there were 248 community education events in Royal Palm Beach, many of which were coordinated with community events.
He also noted that the department started off the year with a new chief, Jeffrey Collins. "He's just getting ready to finish his one-year anniversary as chief of Palm Beach County Fire-Rescue," Arena said.