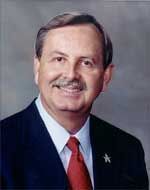 By Sheriff Ric Bradshaw
The Palm Beach County Sheriff's Office is always looking for citizen volunteers to serve as our extra "eyes and ears" in keeping our streets safe.
More than 2,500 people are active in the PBSO's volunteer force, assisting in many important functions across my agency, from helping with our vehicle maintenance to working in our crime lab to backing up our road patrol deputies. Our hardworking volunteers are the backbone of the PBSO, contributing $7 million a year in value-added services that significantly improve our operations in the community.
Since forming in the late 1980s, our volunteer units have helped solve numerous crimes, found many missing children and senior citizens, and freed up countless deputies so they could focus on pressing crime issues. Two years ago, the dedication of our volunteers earned the PBSO a national award for excellence in volunteerism from the International Association of Chiefs of Police.
On any given day, our volunteers patrol communities in marked cars to assist citizens in need and to alert my deputies about suspicious activities. They are attending monthly neighborhood meetings and training to be ready to direct traffic on major roadways when emergencies occur. Our volunteers are riding bicycles through communities, talking to residents and serving as liaisons for my agency. And they assist motorists in distress and help out with traffic crashes.
In all, the PBSO has 12 volunteer groups, including the Citizen Observer Patrol (COP), the Volunteer Emergency Response Team (VERT) and Parking Enforcement Specialists (PES). They are out in residential neighborhoods, shopping centers and government buildings, as well as in our waterways, parks and airports.
Coming from all walks of life, including the fields of law, education and medicine, our volunteers know their communities better than anyone else. Many have lived there for a long time, and they are passionate about keeping their streets free of crime. So who better to patrol a neighborhood than the people who live there?
All of our volunteers are initially trained for their duties, and they get additional training over time so they are proficient at their responsibilities. To become a volunteer at the Palm Beach County Sheriff's Office, you must be older than 18, be a U.S. citizen and not have a felony arrest or conviction. Depending on the unit the volunteer applies for, there will be other requirements.
I hope you will consider becoming a part of our volunteer units. Volunteering not only creates a great feeling of accomplishment, but also helps Palm Beach County be a safer place.
To apply for the PBSO Volunteer Program, apply in person at Volunteer Services, 2601 S. Military Trail, Suite 29, in West Palm Beach. For more information, call our Volunteer Headquarters at (561) 433-2003.