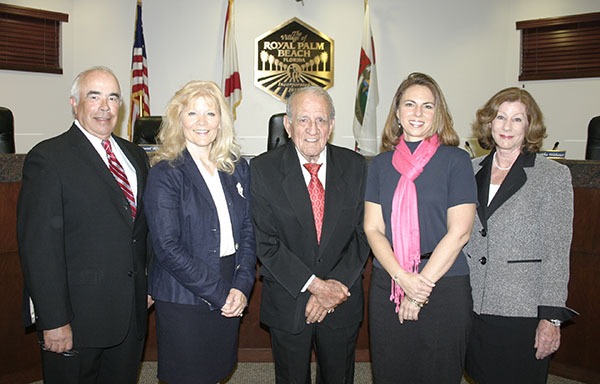 Residents of Royal Palm Beach had the opportunity Tuesday to hear from all four mayoral candidates in a forum hosted by the Town-Crier and moderated by retired WPTV NewsChannel 5 anchor Jim Sackett.
Two-term incumbent Mayor Matty Mattioli will face three challengers on Tuesday, March 11 — businesswoman Laurel Bennett, community activist and Royal Palm Beach Planning & Zoning Commission Alternate Felicia Matula and former Royal Palm Beach Councilwoman Martha Webster.
Questions in the first half of the two-hour forum were asked by Town-Crier staff members. During the second half, Sackett asked questions submitted by the audience. About 100 residents attended the televised forum held at the Village Meeting Hall.
Bennett described herself as a fresh voice in the race. "I'm an entrepreneur, I'm a businesswoman," she said. "I've been called a political novice. I'm all of the above except a political novice. I have been behind the scenes working for the Central Palm Beach Chamber of Commerce. I have been fighting for you all the time."
Bennett noted that she is a mother and the wife of a Vietnam-era veteran with Agent Orange symptoms. She has a master's degree in healthcare and several patents. "What I stand for is fiscal, moral accountability and responsibility," she said.
In her local work, she said she has fought for the State Road 7 extension to Northlake Blvd. and for a revision of the Federal Emergency Management Agency (FEMA) maps that could raise homeowners' flood insurance rates. "I'm here to fix problems," Bennett said.
Asked about her top goals over the next two years, Bennett said she wanted to bring more fiscal responsibility and accountability. She also wants to see the new Royal Palm Beach Commons Park make some money and ensure that State Road 7 goes all the way through to Northlake Blvd. Bennett also said establishing free Wi-Fi service would bring the village 4 percent additional income.
Mattioli, who served on the council for 16 years before being elected mayor in 2010, said he decided to run for one final term to wrap up some unfinished business, including the completion of the Aldi regional distribution center — a major initiative of his that came about while he was mayor.
"There are things I have worked on for many years that will soon come to fruition," he said.
Mattioli noted that he has worked for two decades to keep village taxes low. Since his first campaign in 1994, Mattioli said that he has sworn not to raise the tax rate — a promise that he noted has been kept for two decades.
"As long as I am mayor, that will continue to be," he said, adding that he had talked to the finance director and village manager, who assured him that tax rate increases would not be needed in the foreseeable future.
Mattioli pointed out that the $21 million Royal Palm Beach Commons Park, constructed and opened during his time in office, was not paid for with money from taxpayers and is a beautiful addition to the community. He also supports adding new amenities there, such as a planned dog park.
As for other initiatives, Mattioli said that he has been fighting for decades to bring the State Road 7 extension all the way to Northlake Blvd., and also supports Palm Beach County's Office of the Inspector General in its efforts to bring honest, open government to Palm Beach County and all of its municipalities.
Matula has been a village resident for 15 years, has children in local public schools and is active with youth athletic programs. She said her mother and her in-laws all live in the village. "I'm vested in the community," she said.
Matula is chief financial officer for Pinnacle Hotel Management and received her master's degree in accounting in 2008 from Nova Southeastern University. She has also worked as an adjunct professor teaching accounting.
Currently an alternate on the Planning & Zoning Commission, she previously chaired the village's Recreation Advisory Board.
"I see this as an extension to my service to the community," she said, adding that she considers herself a problem-solver. "I've been in the hospitality industry for 20 years, so my job is basically to be nice to everybody and listen."
Regarding her top goals, Matula said that in addition to the SR 7 extension completion, she would like more resident participation in government and wants to see meetings run with more civility. She also wants her kids to feel comfortable attending middle school and high school in the community.
"I think we have a great high school here," she said. "I would like to see our village get more involved in making sure that it's kept up."
Webster served as a councilwoman for five years, and during that time she served on the Treasure Coast Regional Planning Council, the Palm Beach County League of Cities and the Metropolitan Planning Organization, as well as several committees of the Central Palm Beach County Chamber of Commerce.
She is a member of the Royal Palm Beach Rotary and a retired University of Florida tenured faculty member, and she has received several honors for outstanding public service.
"I'm also pleased to say that I have been endorsed by over a dozen mayors, vice mayors, commissioners and councilmen throughout Palm Beach County," Webster said. "I'm running for mayor because I believe that, unlike my opponents, I have experience and I believe that the time has come for us to have a new leader. There has been a clear deterioration in the leadership on the dais here."
Webster said her top goals over the next two years would be to provide "clarity and transparency" in council actions. "I believe we need to manage the agenda better so that meetings can run properly, and I also agree that we need civility and respect for all those who come before the council," she said.
Webster also wants to increase public participation through advisory boards, including the re-establishment of the Community Revitalization Advisory Board. She also wants to refocus on infrastructure, including roads, canals and especially housing.
In all, candidates answered more than a dozen questions on a wide variety of topics.
Asked whether the village is doing an adequate job supporting local economic recovery by helping fill vacant storefronts and reduce foreclosures, Mattioli said the economy has not yet recovered sufficiently to fill all the vacant storefronts, but that he has worked for the past several years with the Business Development Board of Palm Beach County to draw the Aldi regional distribution center to the village, which is currently under construction and will employ about 300 workers, as well as a new tire distribution business on Southern Blvd. that will employ about 50 workers.
Matula said the village needs to do more to get the empty storefronts filled. "Do I think the city can solve all those problems? Not necessarily, but I think they are not doing what they need to do to get those businesses in Royal Palm Beach," she said.
Regarding foreclosures, Matula said that she has seen improvement in that regard, with people buying empty homes, repairing them and selling them at a profit. "I think we are climbing out of that rut," she said.
Webster said she believes that there are solutions available to the village to help with economic recovery. "I think we need to take a holistic approach, and we need to have public input," she said. "I also think that we need to be creative in how we go about that."
She reiterated that re-establishing the Community Revitalization Advisory Board would help foster economic recovery. "That board should be made up of public safety representatives, Realtors and residents from different neighborhoods," Webster said. "They need to sit down at the table, map out our village and come up with some ideas."
Bennett said she thought the village could do more to improve the local economy. "I think we're doing OK, but I think we need to draw business in," she said. "All of us can see empty storefronts, but what are we going to do about it?"
She said establishing free Wi-Fi would help business. Bennett also suggested putting available homes on the village's web site, as she does for her homeowners' association.
A complete video of the forum is available on the village's web site at www.royalpalmbeach.com.
ABOVE: Moderator Jim Sackett with candidates Laurel Bennett, Mayor Matty Mattioli, Felicia Matula and Martha Webster.