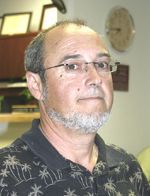 It became official at noon on Tuesday, Feb. 4: Tom Goltzené was not going to be challenged for Seat 5 on the Loxahatchee Groves Town Council.
When the filing deadline passed without a challenger coming forward, Goltzené won a second three-year term by default. And, since no other seats were up for grabs, there will not be a Loxahatchee Groves municipal election this year.
Goltzené's goal for the next three years is to continue doing what he has been doing. "I will continue to look out for the interest of the people in Loxahatchee Groves and to continue to give thoughtful consideration to each of the issues as they come up," Goltzené said.
Some of the issues include creating a consistent policy regarding town roads and the trail system.
"I would like to see the trails and some greenways added and come into use, rather than just be in the planning stages," he said. "I think we have to be very diligent in looking out for the commercial changes being proposed for the town, both changes that we know and don't know of yet."
Loxahatchee Groves is a unique area, and Goltzené wants its importance to be recognized.
"The agricultural character, the historic nature of the town, is a refuge for people from the more urban and suburban parts of Palm Beach County and South Florida," he said. "The wildlife in Loxahatchee Groves can be seen and lives with us. There are wild areas that are still here and open spaces that are still here because of the farms and nurseries."
Often a dissenting voice on the council, Goltzené plans to continue raising issues that he feels need to be discussed.
"I will continue to add a voice, hopefully, to add a voice of reason, and to balance out some things," he said. "The forces of change are always with us, and I try to moderate that."
Goltzené explained that there is a culture clash occurring right now within Loxahatchee Groves. People who have lived in the community for years, he said, are used to the dirt roads and the low-service, do-it-yourself lifestyle, but there has been an influx of newer residents who prefer that more services be available.
There are issues such as how to create the right balance of services for the area, as well as many others that need to be debated and discussed.
"It's interesting times, and I wanted to continue to be a part of it," said Goltzené, who has been a resident of Loxahatchee Groves since 1991.
Aside from his work on the council, Goltzené runs a native plant nursery and does environmental restoration.