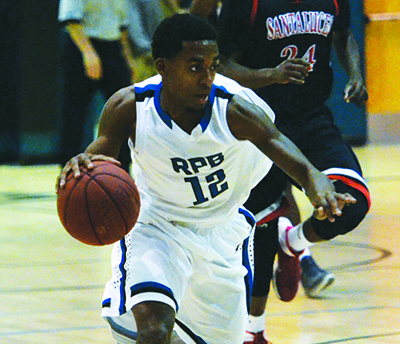 By Gene Nardi
The Royal Palm Beach High School boys varsity basketball team hosted Santaluces High School on Friday, Jan. 31 and defeated the Chiefs 54-47.
The Wildcats built a 23-9 lead by the conclusion of the first quarter. Less than four minutes into the game, RPB's Marshall Riddle put up back-to-back three-point baskets to boost the Wildcat offense.
What appeared to be an easy route for the Royal Palm Beach squad quickly turned into a Santaluces rally, as the Chiefs refused to throw in the towel, closing the first half  down just three points, 23-20.
The Wildcats would start the second half lighting up the court, adding four more three-point baskets by Riddle to jump-start the offense and extend their lead. The Chiefs continued to play catch-up but could not overcome the deficit, and the Wildcats took the win 54-47.
Riddle tallied 24 points for the Wildcats and also put up six three-pointers. Travis Weatherington added 18 points and six assists for Royal Palm Beach.
The District 13-7A playoffs begin this week. The third-seeded Wildcats faced West Boca, but results were not available by press time.
ABOVE: Wildcat Johnnie Horsford takes the ball up court.