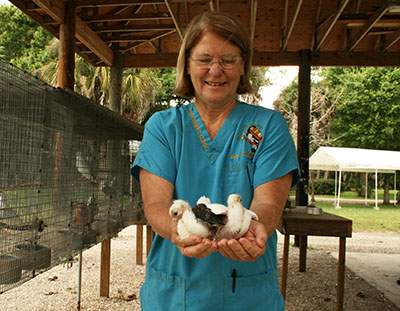 When officials confiscated hundreds of animals, including 109 birds, from the home of an elderly man in Jupiter on Wednesday, Feb. 26, they needed a safe place for the birds to go.
Palm Beach County Animal Care & Control called veterinarian Dr. Susan Clubb, and the birds were delivered to her office on E Road in Loxahatchee Groves.
"I got a call from an animal control officer, and he told me that they had confiscated the birds from this gentlemen because he couldn't take care of them," Clubb recalled. "Apparently, they had been working with him for a while trying to get him to clean up and take better care of the animals, but I think due to his age and his health, he was just not able to."
Officials initially wanted a nonprofit animal sanctuary to take in the birds, but none were available. The first place Animal Care & Control tried declined, as it only takes in native birds, not exotic birds.
"He asked me if I could take them in," Clubb said. "I told him to bring them here, and that we had just finished our new quarantine area and we had adequate caging. We also have a lot of hurricane caging, so we are ready for events like this."
The officers showed up with a horse trailer filled with birds and miscellaneous cages. Some of the bird cages were filled with litter, but by the time the birds got to Clubb's Rainforest Clinic for Birds & Exotics, many were in other enclosures, like the cages the officers use when they go to confiscate animals.
"We had the space available in our quarantine area, and since they were mostly small birds, it was easy," Clubb said. "If it had been 100 big birds, it would have been much more difficult."
When the story was picked up by television stations, it was reported that the facility is an animal sanctuary, but Clubb was quick to correct that notion. "We're not actually a sanctuary," she said. "We take birds in, but we're a veterinary clinic."
The Rainforest Clinic deals mostly with birds, with the biggest percentage of them being parrots. Clubb has seen many other animals, including chickens, ducks, geese, birds of prey, guinea pigs, chinchillas, rabbits, hamsters, goats, pigs and other farm animals. Some of Clubb's more exotic patients have included penguins, kangaroos, Komodo dragons, apes, tigers and sugar gliders.
Over the past two weeks, Clubb and her staff have gone through all the birds, testing them for infectious diseases, documenting them, identifying them and sexing them, figuring out what type of bird each is and what sort of condition it's in.
"The birds were mostly in really good condition," she said. "We found some parasitic problems that we're dealing with. We are testing them all for psittacosis, which is a bird disease that is transferrable to people, but so far they've all been negative. Most of the species were common species, and they're pretty hearty."
On Feb. 23, the Rainforest Clinic hosted its Parrot Party with more than 400 attendees, where specialists lectured the public about various parrots and their care.
"That following Wednesday, when we were still cleaning up from that, we got the call about the confiscation," Clubb said. "I'm very lucky and fortunate to have such an awesome staff, and we were able to mobilize quickly, and the birds were settled into their cages within an hour and a half of arriving here. I thank my staff for that."
The biggest difficulty for the clinic was in dealing with the overwhelming public response to the birds' story.
"We had a lot of people who came out and helped with the phones because the phones just didn't stop ringing for three days," Clubb said.
More than 250 people have inquired about adopting the birds, and the office created an adoption form that is being emailed out to those who have expressed an interest. An invitation-only event for those who have already filled out the adoption forms will take place on Saturday, March 16, from 11 a.m. to 4 p.m., but the event is not open to the public.
There are more interested parties than birds available from this particular situation, but there are many rescue facilities and sanctuaries with birds that need to be adopted. Clubb and her staff are working to turn this event into a positive thing, building a network of people in the area who want to adopt birds. That way, birds can be made available at a more relaxed pace.
"If someone isn't able to adopt a bird out of this group, we will keep the names on file, and we're trying to develop an organized way to communicate with everybody who is interested in these birds," she said.
The birds brought to the Rainforest Clinic from the confiscation include nine chickens, one yellow-naped Amazon parrot that was returned to a niece, three plucked African grey parrots, 17 finches, 26 fancy helmet pigeons, four green-cheeked conures, one sun conure, 11 "budgies" (budgerigar parrots), 11 cockatiels, five ringneck parakeets and 18 lovebirds.
Clubb is a board-certified avian veterinarian with more than 30 years of experience treating birds and exotic animals. The Rainforest Clinic is equipped with an in-house film process for radiography, an in-house laboratory, state-of-the-art endoscopic exams and reproductive exams.
For more information, visit www.susanclubb.com or call (561) 795-4878.
ABOVE: Dr. Susan Clubb holding two of the rescued baby pigeons.