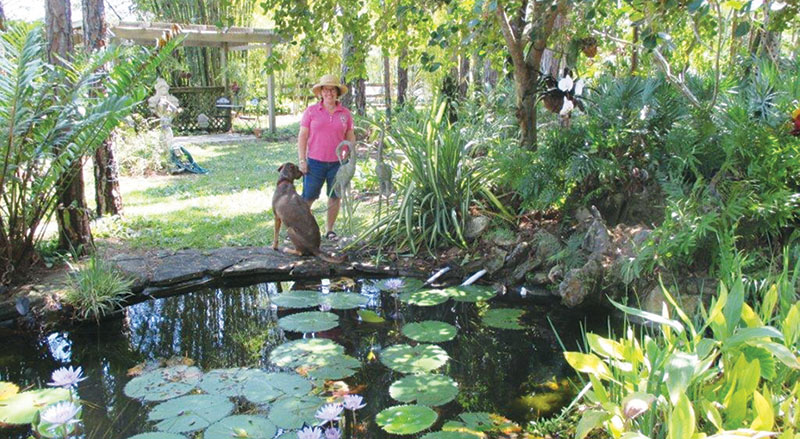 The Wellington Garden Club's seventh biennial Garden Tour will take visitors on a guided journey Saturday, April 5 through some of the most colorful, diverse and elegant gardens in Wellington.
"The Secret Gardens of Wellington" showcases six private gardens that are tropical oases, each unique and special in its own right.
Garden Tour Chair Jayne Kiesewetter noted that the last time the event was offered, approximately 320 participants took part in the self-guided tour.
From 10 a.m. to 4 p.m., the gardens will be open, with the owners and club members available to answer questions and describe plants.
There will also be a unique plant sale, a garden art boutique, refreshments and a raffle, with net profits from the event supporting scholarships and community projects such as summer camp and horticultural scholarships, youth garden clubs and Habitat for Humanity landscaping.
Picking the featured gardens takes time and effort, Kiesewetter said. "We put out feelers among our garden club members, and sometimes we drive up and down streets looking for pretty gardens," she explained.
Featured gardens do not have to belong to Wellington Garden Club members, and some gardens cannot be showcased because of their location, parking issues or if the garden is not quite ready for visitors, Kiesewetter said.
The first garden, "Tranquility," by Linda DeSanti, will be the location of the tree sale. DeSanti's garden has won numerous recognitions, including awards from Florida Yards & Neighborhoods and the National Wildlife Habitat. The garden was also featured on the Mounts Botanical Garden Connoisseurs Tour in 2008.
DeSanti recently installed a new pergola with large planters, and her garden boasts a rainbow eucalyptus tree, angel trumpet and bamboo. A relaxing walk along meandering paths brings visitors through native plants, orchids, ferns and red flowers that attract hummingbirds. "We have been here about 15 years, and it has grown larger and larger," DeSanti said. "There's a deck with a large pond and waterfall, arbor with lion heads, a water fountain, a quiet area in the very back that is secluded, a potting work area to one side, and the front yard has a bird and butterfly sanctuary area."
Garden two, "Holly House," showcases three D.D. Blanchard magnolia trees and six Nellie Stevens hollies, as well as desert cassia trees and a silver trumpet. With a continuous-edge pool, a spa seating 20 and a volleyball court, the pool design won a mention in the National Pool & Spa competition.
Garden three, "Secret Garden," features more than 80 plants and trees. Three bottle brush trees stand at the garden's entrance, guiding visitors into a garden flourishing with butterflies and birds.
Nestled behind cypress trees is a hidden-away area that is a certified butterfly sanctuary. Fluttering through the garden are zebra, monarch, sulphur and swallowtail butterflies, along with hummingbirds and other bird species.
Garden four, "Villa Glenna," boasts more than 72 varieties of bougainvillea trees, along with 50 other trees and plants throughout the property. With luscious citrus fruits growing on many of the trees, hummingbirds frequently visit the garden.
Garden five, "Lovsta South," is a 10-acre garden with more than 260 trees. Within its picture-perfect confines, there is a vegetable garden with tomatoes and peppers, an orchid shed, an herb garden, a secluded oasis within the evergreens, live oaks, Hong Kong orchids, bougainvilleas, cinnamon trees and more.
Garden six, "Modern Art," is a small garden with rocking chairs, a marble sculpture, a tranquil pool and plants in bright blue planters. In the rear are two pelican sculptures, ground orchids and bromeliads.
Gardens take time, effort and financing, and the gardens featured on the tour are labors of love.
Sharing their gardens with the public is something many gardeners eagerly anticipate.
"It's rewarding," DeSanti said. "Every time someone walks into the back yard, they're amazed. They always have things to say about how calming and relaxing it is."
One of the best things about the tour, DeSanti said, is the ability to see award-winning gardens and what makes them so special. The gardens provide inspiration, whether they're large, small, with a yard or in a container.
Raffle items include a Van Dell ladies watch, a flowering tree, a handmade pendant, a Christmas palm, a specialty facial at Sanda Gané European Day Spa, two pallets of red mulch installed, a blue-ribbon king quilt, a wine tasting for 20 from Total Wine, a glazed ceramic container with succulents and more.
"I cannot imagine a nicer way to spend the day than going through gardens that are beautiful and loved by the people who put them together," Kiesewetter said. "It is a very peaceful way to spend time and see beautiful plantings and beautiful landscape design."
Tickets are $25 in advance, $30 the day of the tour and $22 each for groups of 10 or more.
Advanced tickets can be purchased at Whole Foods Market (2635 State Road 7, Wellington) and Amelia's Smarty Plants (1515 N. Dixie Hwy., Lake Worth).
On April 4, the day of the tour, tickets can be purchased at First Baptist Church of Wellington (12700 W. Forest Hill Blvd.) starting at 9:30 a.m.
The Wellington Garden Club was founded in 1981 with 14 members. Today, there are 150 members. A nonprofit organization, it takes an active part of the community. The club's objectives are to advance home gardening, preserve natural resources, stimulate civic pride and protect wildlife. To learn more, visit www.wellingtongardenclub.org or e-mail info@wellingtongardenclub.org.