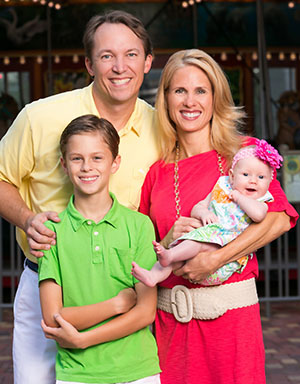 With a blue-ribbon line-up including VIP seats for world-class equestrian show jumping, animal encounters, crafts, a kid-themed silent auction and a family-focused luncheon, the Hanley Center's Annual Family Picnic will gallop into its 19th year of raising money for substance abuse prevention efforts in local schools on Sunday, March 9.
Held under a ringside tent at the Palm Beach International Equestrian Center in Wellington, the benefit offers the perfect opportunity for families to come together for a day of fun — a key activity for preventing future substance abuse, according to Hanley Center Foundation CEO Dr. Rachel Docekal.
"We know that spending time with your children today helps you stay connected tomorrow," Docekal said. "Kids in families who don't eat dinner together are more likely to use tobacco, alcohol and drugs. We are so grateful to this event's great leadership of all ages, and we hope families will see the picnic event as the perfect opportunity to spend a really fun day together and reinforce that family time is time well spent, all while benefiting an important cause."
The Family Picnic committee is led by chairmen Lisa and Dan Thomas, with child chairmen, Jack and Whitney; co-chairmen Denise Groo and Val Perez; honorary chairmen Dorothy and Sheriff Ric Bradshaw, with honorary child chairmen and grandsons, Landon Branch and Noah LoFaso; and honorary media chairwomen Roxanne Stein of WPTV NewsChannel 5 and Deena Lang of 97.9 WRMF.
The Hanley Center is a nonprofit residential substance abuse treatment center established by the Hanley family as a community resource nearly 30 years ago. Mary Jane and Jack Hanley started with the goal of bringing quality substance abuse treatment to the southeast. The community rallied behind them to initially build the Hanley Center, and it has become a vital community pillar and national trailblazer for the recovery industry in the years since. The Hanley Center has led the treatment industry as a pioneer, with older adult and boomer programs setting a hallmark for effective treatment and the industry standard for treating those populations today.
Now part of the Caron Treatment Centers network, Caron and Hanley comprise one of the largest and most comprehensive nonprofit addiction treatment providers in the country, focused on a 12-Step recovery program with a powerful clinical component. For more information on the Caron and Hanley Treatment Centers, or future local events, call (561) 841-1048 or visit www.hanleycenter.org.
Tickets to the Family Picnic are $195 for adults (18 and over), $50 per child (7-17 years of age), and children 6 and under are free. For more information about the picnic or Hanley prevention programming, visit www.hanleycenterfoundation.org. If you wish to purchase tickets or reserve a table, contact the Hanley Center Foundation's Special Events Team at events@hanleycenter.org or (561) 841-1048.
ABOVE: Dan and Lisa Thomas with children Jack and Whitney. PHOTOGRAPHY BY LILA PHOTO