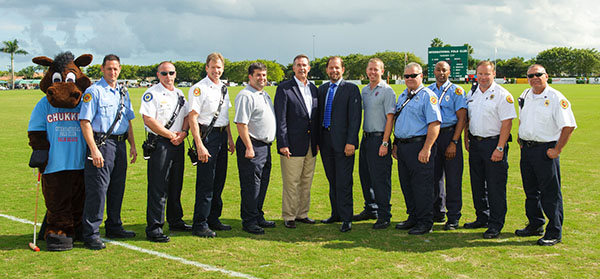 The International Polo Club Palm Beach held a special salute Sunday, Feb. 23 for those who put their lives on the line every day.
Florida Chief Financial Officer Jeff Atwater, who also serves as the state's fire marshal, did the honors, along with IPC President John Wash.
Atwater and Wash introduced firefighters and emergency medical techs from Palm Beach County Fire-Rescue. Officers from the Palm Beach County Sheriff's Office who serve Wellington and Royal Palm Beach were also acknowledged, as were representatives from Wounded Warriors of South Florida, which assists disabled veterans returning home.
The crowds in the sold-out stadium gave several standing ovations to these men and women who have served, and continue to serve, the community with distinction.
The Veuve Clicquot/Gardens Mall Fashion on the Field winner was Pilar Matte, who won the day in a flowing white linen ensemble, sporting a white-on-white embroidered crop top with a long, white pleated skirt. Her fashionable accessories included a bold, silver love necklace, an oversized, silver-linked watch and tortoise shell Oliver Peoples mirrored sunglasses.
"Celebrity heads" entertained and amused polo enthusiasts while posing for photos. "Burt Reynolds," "Donald Trump" and "J.R. Ewing" sought out fashion-forward ladies, while "Cher" and "Barbra Streisand" hugged and threw kisses to the gents. "Bill and Hillary Clinton" shook hands with guests and waved for the cameras. "Liza Minnelli" did a few cabaret-type kicks, while "David Letterman" was a good sport while iPhones flashed.
Sunday Polo is the hottest ticket in town. Lawn seats, box seats and the popular Sunday Brunch & Polo package are selling out quickly.
For more information, visit www.internationalpoloclub.com or call (561) 204-5687.
ABOVE: Florida CFO Jeff Atwater and IPC President John Wash with local heroes. PHOTOGRAPHY BY LILA PHOTO