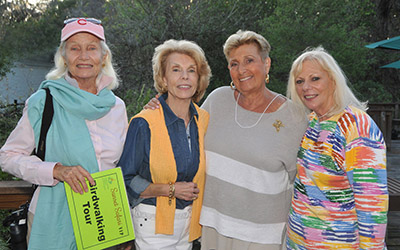 It was a perfect South Florida afternoon for an Everglades Sunset Safari. Bermuda shorts and safari hats replaced cocktail attire as the Arthur R. Marshall Foundation for the Everglades honored donors who gave $1,000 or more in response to its "Leaders of the Everglades Challenge."
The challenge was organized by the Marshall Foundation to match the $200,000 challenge grant received from the Batchelor Foundation to fund its Everglades education programs.
The Sunset Safari, held Saturday, March 8 at the Arthur R. Marshall Loxahatchee National Wildlife Refuge, had something for everyone. Guests, whose ages ranged from nine to 90, enjoyed activities including air-boat rides conducted by senior scientists, guided canoe trips by Everglades docents, guided nature walks with nationally recognized nature photographer Claudine Laabs, a wine and hors d'oeuvres reception, a Florida-style buffet dinner, home-made ice cream and musical entertainment. Donors and their guests also welcomed the opportunity to meet with new Marshall Foundation CEO Mark Pafford.
A number of guests traveled to the refuge by deluxe motor coach, which left from downtown West Palm Beach. While in route, Pafford gave an in-depth primer on the various landscapes of West Palm Beach and beyond, pointing out the last vestiges of old-growth trees in between developments and commercial areas. It was an eye opener for many who drive the roads nearby every day.
"I was very impressed with the extensive knowledge that Mark has about the natural environment and the Everglades," said Susan Sylvester, bureau chief of operations control at the South Florida Water Management District, who volunteered as one of the canoe trip docents for the safari.
Lace Vitunac enjoyed the event very much. Vitunac knew conservationist Arthur R. Marshall Jr. back in the day. It can be assumed he, too, would have enjoyed the Sunset Safari very much.
For more info., or to participate in the Leaders of the Everglades Challenge Grant, call the Marshall Foundation at (561) 233-9004 or visit www.artmarshall.org.
ABOVE: Nature photographer Claudine Laabs with Marshall Foundation President Nancy Marshall, Barbara McDonald and Bonnie Lazar.