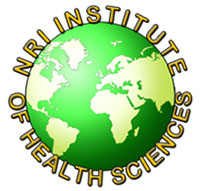 The NRI Institute of Health Sciences is adding a new component to its nursing school in the Royal Plaza shopping center in Royal Palm Beach.
According to NRI Secretary/Treasurer Dan Splain, an ultrasound program will soon join the facility.
"NRI Institute, the nursing school that we opened in Royal Palm Beach last year, has been in talks with the Ultrasound Medical Institute, a 20-year-old accredited school in Lantana, to discuss how we might work together collaboratively to strengthen each other's programs," Splain told the Town-Crier. "As a first step, the Ultrasound Institute has made me the chief administrative officer of that company. One of the first things we are doing is to relocate the Ultrasound Medical Institute to Royal Palm Beach."
The school moved last weekend into Royal Plaza and began teaching classes with its existing student body on Monday in Royal Palm Beach. The village and Palm Beach County have both approved the move and issued the necessary business tax permits, Splain said.
"Ultrasound, which this school teaches, is the fifth-fastest-growing occupation in the country," he said.
Referring to the Bureau of Labor Statistics handbook, he said a 46-percent increase in ultrasound jobs is expected between now and 2022. The field has a median annual wage of about $65,000 a year.
"We think it's a very good educational program to bring to central Palm Beach County and Royal Palm Beach," Splain said. "It kind of reaffirms our belief that this section of Palm Beach County is a very good place to be."
Once the school is established, he said, they will explore a number of potential avenues, including a possible merger of the two schools later this year and development of new programs that might include a physical therapy assistant program.
"Physical therapists and physical therapy assistants are in tremendously short supply in this country," Splain said.
Splain also pointed out that the existing nursing school is training people for another job field that is again in high demand, not just here, but across the nation.
"Rural areas, including the Southwest, the Rocky Mountain West, and some of the exurban areas of the upper Midwest and Southeast, are experiencing significant nursing shortages similar to what was seen in the mid-2000s," he said.
The new Ultrasound Medical Institute is in the same plaza but in a different location and address than NRI for now, Splain said. "We're hoping later this year to merge them all," he said.
Ultrasound, or sonography, is a diagnostic tool used in different modalities, including obstetrics and gynecology, small organs and cardiology.
Ultrasound Medical Institute has a 100 percent placement rate of graduates, he said. "Most of the hospitals in Palm Beach County employ people who have graduated from this school over the last 20 years," Splain said.
The school is accredited by the Council on Occupational Education and participates in the federal student loan program. It also works with the Department of Veterans Affairs to provide educational benefits for veterans.
For more information about the Ultrasound Medical Institute, visit www.sonogramcenter.com. For more information about the NRI Institute, visit www.thenriinstitute.com.