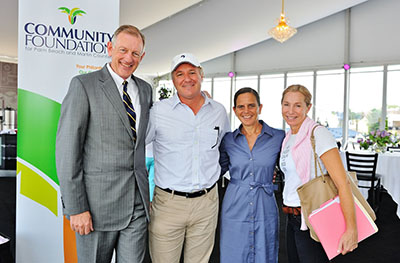 Philanthropy was the topic of discussion at the Community Foundation for Palm Beach and Martin Counties' luncheon on Friday, March 21 at the Palm Beach International Equestrian Center.
Guests at the intimate event enjoyed the view overlooking the show jumping arena while they shared stories about how the Community Foundation has helped them connect their philanthropy to local causes they care about.
Brad Hurlburt, the nonprofit's president and CEO, hosted a series of luncheons around Palm Beach and Martin counties this season designed to educate donors and supporters about the ways the organization identifies and addresses issues, and assists nonprofits in order to build stronger, healthier communities.
Rich Anderson, executive director and CEO of the Peggy Adams Animal Rescue League, was the featured guest speaker. He explained about the nonprofit's work that provided services to more than 29,000 animals last year. The organization recently started an endowment fund at the Community Foundation to ensure that their mission can be sustained in the future.
Luncheon guests included Community Foundation board member Anson Beard Jr.; former board chair Eliot Snider and his son, Paul Snider; Mark and Katherine Bellissimo; Helen Andrews and Frank Orcino; and Caroline Moran.
For more information, visit www.yourcommunityfoundation.org.
ABOVE: Community Foundation President and CEO Brad Hurlburt with Mark Bellissimo, Caroline Moran and Katherine Bellissimo.
Photo Courtesy Tracey Benson Photography