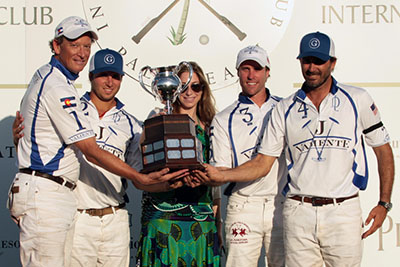 Valiente (Bob Jornayvaz, Santi Torres, Sapo Caset and Adolfo Cambiaso) broke open a tight game against Orchard Hill (Steve Van Andel, Santiago Chavanne, Pablo MacDonough and Matias MacDonough) with a strong fifth chukker that gave them a 12-8 lead — an edge Valiente held through a scoreless sixth chukker to win the 2014 C.V. Whitney Cup at the International Polo Club Palm Beach on Sunday, March 2.
Behind the leadership of 10-goaler Cambiaso, who had been injured in semifinal action, Valiente was able to bust the game open, scoring seven times in the fourth and fifth chukkers.
In a defensively oriented opening chukker, Cambiaso scored the only goal midway through the period for a humble 1-0 lead.
Torres converted a 60-yard safety to open the second, 2-0. Consecutive goals from Pablo MacDonough and his brother Matias MacDonough tied it up at 2-2. Caset broke the tie with a short penalty shot for a goal, 3-2, and Torres made it 4-2 on a great individual effort in the final seconds of the chukker.
Van Andel scored for Orchard Hill to open the third, 4-3, but Cambiaso responded with a goal from the field for a 5-3 Valiente advantage. Chavanne kept the pressure on Valiente with the final goal of the period. Valiente continued to lead, but Orchard Hill was within a goal of the lead.
Caset converted a 40-yard penalty shot for a goal to open the second half, followed by a goal from the field to make it 7-4. The MacDonough brothers responded in kind, with single goals from Pablo, then Matias to bring Orchard Hill to within one goal, 7-6. Caset converted a penalty shot for a goal, and then Cambiaso added a goal from the field for Valiente to make the score 9-6. Pablo MacDonough scored on a 40-yard penalty shot to end the chukker trailing Valiente, 9-7.
Valiente's pace seemed to quicken in the fifth. Cambiaso scored back-to-back goals for a comfortable 11-7 lead. Matias MacDonough converted a 30-yard penalty shot to make it 11-8, but Caset countered with a penalty goal of his own. The period ended with Valiente on top, 12-8.
Orchard Hill did everything they could to get back into the game in the final chukker, but there was no give by the Valiente defense. The two teams played without a score in the final chukker despite a number of near misses. When the final horn sounded, Valiente celebrated the 12-8 win.
Cambiaso and Caset led the Valiente attack with five goals each. Torres added a pair of goals for the victory and was named MVP. The MacDonough brothers scored three goals each. Van Andel and Chavanne each added a goal. Bob Jornayvaz's horse, Boeing, received Best Playing Pony honors.
In other action Sunday, Audi (Marc Ganzi, Gonzalito Pieres, Rodrigo Andrade and Gonzalo Del Tour) took the field against Flight Options (Grant Ganzi, Eduardo Astrada, Miguel Astrada and Alejandro Astrada) in a lineup that had Grant Ganzi replacing his mother, Melissa Ganzi. Flight Options won the match 11-10 to win the 2014 Les Armour Memorial Cup, the subsidiary of the C.V. Whitney Cup.
The 2014 USPA Piaget Gold Cup is scheduled to begin at 3 p.m. on Friday, March 7 with a game between Alegria and Flight Options. A Saturday morning contest will feature Audi and Orchard Hill.
For more information, visit www.internationalpoloclub.com or call (561) 204-5687.
ABOVE: Valiente is awarded the 2014 C.V. Whitney Cup last Sunday at the International Polo Club Palm Beach. Photo by Alex Pacheco