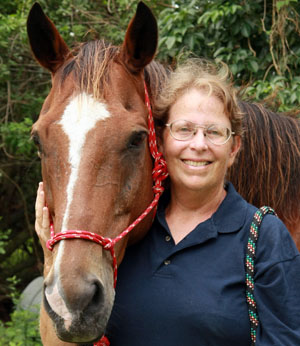 TALES FROM THE TRAILS
It wasn't that long ago that June and Robert "Bob" Orvis finally took the plunge and opened a feed store. After many years of driving semi loads of hay back and forth from Canada to South Florida, it was time to stay put for a while and take a break from the road.
And so, in October 2013, they signed the lease and moved into one of the small empty stores in the Grove Marketplace shopping plaza, the one more commonly referred to as the old Winn-Dixie shopping center on Seminole Pratt Whitney Road. Winn-Dixie might be long gone, but June and Bob were doing just fine. So well, in fact, that by February, they contacted their landlord and took over the empty store next door, made a hole in the wall and doubling the size of Tropical Hay & Feed.
"We were busting out of the smaller space," June said. "We ran out of room. Now we've doubled our size, from 1,037 square feet to 2,237 square feet. This is a comfortable size for us; a much better fit."
"Business has been wonderful, extremely busy," Bob added. "We started with the hay and a complete line of Walpole feed, and now we've added MannaPro and ADM products. Our customers requested it, so that's what we did."
Indeed, June and Bob are all about pleasing their customers.
"If there's something you want that we don't have, let us know, and we'll get it," Bob said. "We can get the equivalent or better of any feed you use, and our prices can't be beat. We have every kind of horse feed, plus food for goats, dogs, rabbits, chickens, pigeons, fish and parrots. One customer requested turtle food for her tortoises, so now we carry that, too."
The store also carries shavings and pine wood pellets, along with, of course, hay.
"We carry about the best hay you can find," Bob said. "We have three-string alfalfa from Arizona, three-string timothy from Nevada and a variety of western-Canadian hays — two-string alfalfa, two-string T&A and compressed T&A. And we offer free delivery with no fuel surcharge."
The business has grown quickly.
"When we first opened, we saw about 10 to 12 customers a day," June recalled. "Now it's more like 40. We had a lot of old customers, from when we were driving, but friends tell friends, and now we've got lots of newer customers. We had four new ones walk in yesterday."
Heather McCandless of Loxahatchee Groves is one of those new customers. "I have four horses," she said. "I just started coming here recently, and I like it. I'll be back."
"We've had a lot of good feedback," Bob said. "People say they're glad to have a local store close by. They can pull up with their truck or even their horse trailer, and we load everything up for them. They don't have to carry a single bag."
The store also offers used tack on consignment, buckets, supplements and, occasionally, live chicks. The MannaPro rep periodically holds feed seminars to educate people on animal nutritional needs and will even make a free complimentary farm call to make specific recommendations.
Dr. Eileen Gesoff, a local veterinarian, also plans to conduct seminars at Tropical Hay & Feed to discuss horse health and other topics.
Tina Ott, from The Acreage, is a loyal customer. She does barrel racing and drill team with her two horses.
"I didn't find them, they kind of found me," she laughed. "Even before they opened their store, I'd heard about their wonderful hay. Then, when they first opened the store, I came over. I love them, absolutely love them. I'm glad they've expanded. I don't go to other feed stores too much now. All of my needs are met here."
Since using Tropical Hay & Feed, Ott has noticed improvements in her horses.
"My horses are doing phenomenally. I started feeding Renew Gold, a fantastic supplement, and their coats are so gorgeous, all shiny and dappled. They always look like they've just had a bath," Ott said. "They've helped me out a lot, even when I needed something at the last minute. They have great customer service. I've dealt with many other hay and feed suppliers, but June and Bob are the best. We're fortunate they're here. I highly recommend everyone stop by and check them out. You won't be happier anywhere else."
Tropical Hay & Feed is open 9 a.m. to 6 p.m. Monday through Friday, 9 a.m. to 4:30 p.m. Saturday, and 9:30 a.m. 3:30 p.m. Sunday. The store is located at 5046 Seminole Pratt Whitney Road in the Grove Marketplace.
For more information, call (561) 727-9594 or visit www.tropicalhayfeed.com.