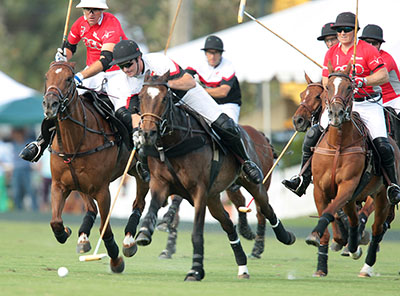 In last Sunday's featured match at the International Polo Club Palm Beach, two undefeated teams took the field in USPA Piaget Gold Cup competition with Alegria (Julian Mannix, Clemente Zavaleta, Mariano Aguerre and Hilario Ulloa) taking an early 6-3 halftime lead on Audi (Marc Ganzi, Gonzalito Pieres, Rodrigo Andrade and Gonzalo Del Tour) before registering a 10-7 win.
Alegria took its 6-3 halftime lead on the strength of three goals from Zavaleta (two on penalty conversions), a pair of goals from team captain Mannix and a Penalty 1 that awarded them a goal on a foul in the goal mouth by Audi. Audi displayed a listless offense that gave them a total of three penalty goals from 10-goaler Pieres.
Del Tour and Pieres scored for Audi in the fourth, with Aguerre adding a goal to the Alegria total to maintain the lead, 7-5. Zavaleta and Pieres traded goals in a ho-hum fifth chukker that kept Alegria in the lead 8-6, before the two teams ended the game with Aguerre and Ulloa chipping in goals from the field in the sixth for the 10-7 win. Pieres converted a 30-yard penalty shot for Audi.
Pieres scored all of his game-high six goals on penalty conversions. Del Tour added a goal for Audi. Zavaleta set the pace for Alegria with four goals (three on penalty shots). Aguerre and Mannix added two goals each and Ulloa scored once for the win. Mannix was named MVP, while Aguerre's Los Machitos Jackie was named Best Playing Pony.
However, with 2-0 bracket records, both Alegria and Audi had already qualified for semifinal play and were just jockeying for positions, while the more heated contests took place earlier in the day.
Valiente (Bob Jornayvaz, Santi Torres, Sapo Caset and Adolfo Cambiaso) raced out to an early 3-1 lead over Lechuza Caracas (Victor Vargas, Nico Pieres, Juan Martin Nero and Nico Espain) before holding on to score an 11-10 win that put them in the running for a semifinal playoff berth.
Coca-Cola (Gillian Johnston, Sebastian Merlos, Julio Arellano and Facundo Obregon) was eliminated from USPA Piaget Gold Cup competition on the strength of a 9-8 overtime win by Crab Orchard (Kerstie Allen, Facundo Pieres, Magoo Laprida and Paco de Narvaez), sending Valiente and Lechuza Caracas into semifinal play. The Crab Orchard victory wasn't easy in a game that was tied on six occasions, but eliminated speculation about the results of a three team shootout.
In a second noon match, Flight Options (Melissa Ganzi, Eduardo Astrada, Miguel Astrada and Alejandro Astrada) battled Orchard Hill (Steve Van Andel, Santiago Chavanne, Pablo MacDonough and Matias MacDonough) through six chukkers of fast-paced action before scoring the winning goal in an 11-9 game that had little effect on USPA Piaget Gold Cup play. The two teams entered the game with 0-2 records, but played as if it were the tournament finals.
Valiente, Audi, Lechuza Caracas and Alegria battled it out for the two final slots on Wednesday, March 19, with the two winners advancing to the USPA Piaget Gold Cup finals, which will be the featured match at IPC on Sunday, March 23.
For more information, visit www.internationalpoloclub.com or call (561) 204-5687.
ABOVE: Both Alegria and Audi had already qualified for the USPA Piaget Gold Cup semifinals when they faced each other during last Sunday's featured match. Photo by Alex Pacheco