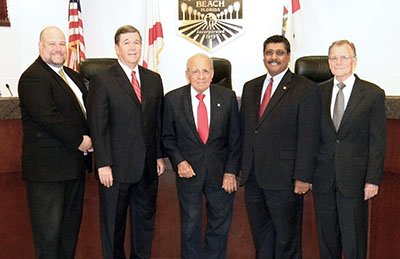 A baker with a long history of vendor service has been selected by the Royal Palm Beach Village Council to operate the café at Veterans Park.
On April 17, the council approved a bid award and authorization for the village manager to enter into a contract with Peter Torocsik, proprietor of Ultimate Bakery and Pastry, and the only bidder to operate the café, which has had several different vendors since the park opened.
Councilman Jeff Hmara asked to have the item pulled from the consent agenda so he could ask about the contract.
"We've discussed the need to re-establish a viable, going concern that will provide food to everybody who frequents the park, and there are quite a few people who do that," Hmara said. "If there's a really good food vendor, it will increase the traffic there."
Parks & Recreation Director Lou Recchio said Torocsik is a baker by trade.
"He has been a baker for a number of years and has had businesses where he took care of the City of Miami Police Department, Fort Lauderdale, Parkland, the City of West Palm Beach," Recchio said. "He realizes this is not a restaurant per se. He knows it's a concession business, and that is what he has been in along with his bakery."
Torocsik's most recent operation was a bakery at Lantana Road and Congress Avenue.
"We have had the opportunity to actually sample his product, and it's great," Recchio said. "I think the people are going to love it."
Recchio pointed out that there are no independent bakeries in the village. "He realizes the limited amount of traffic, but he will be reaching out to the neighborhoods," Recchio said. "He has all intentions of taking part in our special events, which is going to be a huge undertaking for him."
Recchio pointed out that on weekends, the large pavilions are rented out every Saturday and Sunday for parties and family gatherings.
"His intention is to put packages together and reach out to those folks and offer them a package," Recchio said.
He added that the sample menu was reasonably priced. In addition to bakery items priced from $1.25 to $2 each, the menu offerings include egg-and-cheese sandwiches from $1.50 to $2.50, bagels for $2.50, pizza by the slice for $2.25, subs for $6, hot dogs for $3.50, coffee varieties for $1.25 to $2.75 and other beverages from $1.25 to $2.
"He has all the equipment that's needed to run it, so he doesn't need to make an initial investment, but he realizes it's going to take time," Recchio said.
Hmara said Torocsik could take advantage of special events at the park. "We've got a couple of them coming up," he said, including Cultural Diversity Day on Saturday, May 10 and Memorial Day.
Recchio said there are also community garage sales and other events at the park, but that previous vendors chose not to take part in them.
"We can use our own vendor for Memorial Day," Recchio said. "Obviously, we will approach him."
Vice Mayor David Swift said he was impressed with Torocsik's résumé. "When he reaches out to the neighborhoods, I certainly would commit myself to helping out in any way," Swift said. "I really would like to see that little place get going."
Recchio said the aroma of fresh baked goods, bread and pastries will advertise that he is there.
"He made a statement that when he gets in there in the morning, he's going to open up his doors and people are going to smell his fresh baked goods, and that's going to draw them in," Recchio said.
The three-year contract commences May 1 and may be renewed for two one-year terms. The lease payment is based on 2 percent of the annual gross sales the first year, 3 percent the second year and 4 percent the third year, plus monthly utility charges.