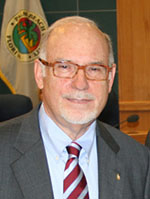 Palm Beach County Water Utilities Director Bevin Beaudet was recognized by the Palm Beach County Commission on Tuesday for receiving a national water quality award.
Beaudet, who has had a 45-year career in environmental engineering, has been with the county for about 20 years. He was recently presented the National Environmental Achievement Award for Public Service from the National Association of Clean Water Agencies.
"This is a national competition where the competition is over the entire country, so this is something very special," Palm Beach County Mayor Priscilla Taylor said. "This is a very prestigious award, and it's given annually to recognize individuals who have made outstanding contributions to environmental protection and wastewater management. The county had an extensive wastewater treatment program that provides a great degree of environmental sustainability. The reclaimed water program alone has recycled billions of gallons of fresh water over the years."
The program includes the Wakodahatchee and Green Cay constructed wetlands in Boynton Beach, both popular sites for birds and other wildlife, with boardwalks for visitor observation.
"Unfortunately, Bevin is retiring at the end of September," Taylor said. "He will certainly be missed."
Beaudet said that although it is an individual award, he credited the staff of the water utilities department for their support.
"It is an excellent department that is recognized nationally for its progressiveness and efficiency," he said. "None of this would have been possible if it hadn't been for the support of the board over the years, and their willingness to give their resources for us to be the best."
He also credited County Administrator Bob Weisman for his support. "Over the years, he has challenged us and given us the space and the room to do a good job," Beaudet said.
Beaudet has been instrumental in numerous water projects, including the use of reclaimed water to cool turbines at the West County Energy Center, and numerous energy and cost-saving measures within the utilities department, which is the third-largest water and wastewater utility in Florida, serving 520,000 residents. The department's operating budget is $115 million a year, with a $50 million capital budget and 558 employees.
Beaudet also led the county with the long-planned C-51 Reservoir Project north of 20-Mile Bend, even though the project will primarily benefit Broward County, which is in desperate need of potable water.
The C-51 Reservoir Project is designed to capture and use water that would otherwise go to tide and be wasted. It uses rock pits at Palm Beach Aggregates.
ABOVE: Palm Beach County Water Utilities Director Bevin Beaudet.