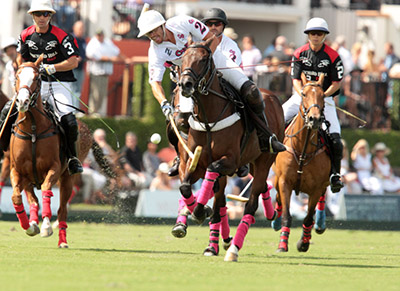 Wet fields caused the postponement of two of last Sunday's 2014 Maserati U.S. Open games, but that didn't stop the International Polo Club Palm Beach's featured match from taking place.
Crab Orchard (Peke Gonzalez, Magoo Laprida, Facundo Pieres and Paco de Narvaez) registered the first win of the Maserati U.S. Open Championship with a 12-9 victory over Orchard Hill (Steve Van Andel, Santiago Chavanne, Pablo MacDonough and Matias MacDonough) in the Sunday afternoon tournament opener.
Pieres scored the first goal of the game in the opening seconds of the first chukker to post Crab Orchard to a 1-0 start. De Narvaez made it 2-0 just a moment later as Orchard Hill struggled to organize their defense. The final goal of the chukker was scored by Orchard Hill team captain Van Andel. Crab Orchard left the field with the early 2-1 lead.
Two minutes elapsed in the second chukker before a Crab Orchard foul sent Matias MacDonough to the penalty line, where he converted a 30-yard shot to tie the game 2-2. With both teams battling for control of the ball, scoring was at a standstill until the final seconds of the chukker, when Gonzalez, filling in for the injured team captain George Rawlings, broke loose and raced down the field to score the go-ahead goal. After two chukkers, Crab Orchard was ahead, 3-2.
Crab Orchard 10-goaler Pieres gave a demonstration in horsemanship and ball control in the third. He opened the chukker with a 60-yard penalty conversion for a goal just 16 seconds in. Less than a minute later, Pieres made it 5-2 on a goal from the field. An Orchard Hill foul sent Pieres to the penalty line once again, where he converted a 40-yard shot for a score, making it 6-2. Pablo MacDonough kept the Orchard Hill hopes alive by driving the ball through the goal posts with 30 seconds left on the clock. At the end of the first half, Crab Orchard sat on top of a 6-3 score.
Pieres scored two more goals (one on a penalty shot) to open the second half, as Crab Orchard stretched its lead to five goals, 8-3. Pablo MacDonough scored for Orchard Hill, making it 8-4, but then de Narvaez scored his second goal of the day, bringing the score to 9-4. Matias MacDonough cut into the Crab Orchard lead with a goal in the final four seconds of the chukker, yet Crab Orchard held a comfortable four-goal advantage, 9-5.
The fifth chukker belonged to Pieres yet again, as he added three consecutive goals (two on penalty shots) to give Crab Orchard a seven-goal edge, 12-5. Ten-goaler Pablo MacDonough scored the final goal of the chukker, on a long run with 18 seconds left in the period. Crab Orchard continued to control the game with a six-goal lead, 12-6.
Orchard Hill continued to press in the final chukker, but Crab Orchard was clearly not concerned. Matias MacDonough scored just a minute in, making it 12-7, and teammate Chavanne later added another goal, but time was running out. Pablo MacDonough scored the final goal of the game on a pass from his brother, Matias, but there was no more rally left as Crab Orchard rode out the clock for the 12-9 victory.
Pieres led all scoring with nine goals (five on penalty conversions). De Narvaez added two goals, and Gonzalez scored once in the win. Pablo MacDonough led the Orchard Hill attack with four goals. Matias MacDonough scored three times (once on a penalty shot), and Chavanne and Van Andel each added a goal in the loss.
De Narvaez was named MVP for his efforts, while Pablo MacDonough's Venturosa was honored as Best Playing Pony.
U.S. Open play continued in a rare Monday afternoon match, with a contest between Valiente (Bob Jornayvaz, Santi Torres, Sapo Caset and Adolfo Cambiaso) and Lechuza Caracas (Victor Vargas, Nico Pieres, Juan Martin Nero and Nico Espain). Valiente notched a 12-7 victory on the heels of a strong second half.
Lechuza's Pieres led all scoring with seven goals (five on penalty shots).
Valiente presented a more balanced attack with Torres, Caset and Cambiaso each scoring four times for the victory.
The 110th Maserati U.S. Open Polo Championship continues this week at the International Polo Club Palm Beach. For more info., visit www.internationalpoloclub.com or call (561) 204-5687.
ABOVE: Crab Orchard jumped out to an early lead and held on to notch a 12-9 victory in last Sunday's U.S. Open match. Photo by Alex Pacheco