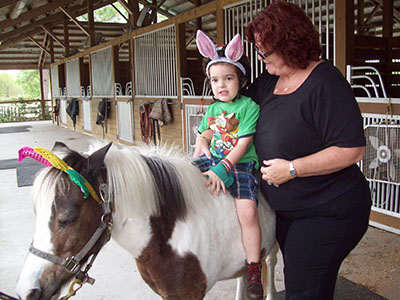 Good Earth Farm in Loxahatchee Groves is offering animal-assisted therapy for children and seniors this spring and summer on Mondays and Tuesdays, with specially trained coaches and mini horses.
The farm offered the program last summer to a great response. The cost is just $20 and a bag of carrots or apples for 45 minutes of work with a mini horse.
Kids love it and have a wonderful experience working with the small horses. Seniors have been known to get rid of depression and loneliness when working with them.
The mini horses are also great for clients with physical challenges; they work well around wheelchairs.
Make an appointment by calling (561) 792-2666. Learn more about Good Earth Farm at www.goodearthfarm.info.
ABOVE: Children have a great time working with the mini horses.