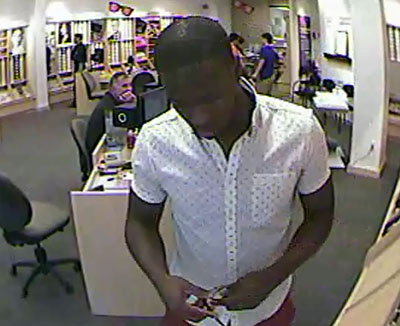 The Palm Beach County Sheriff's Office is asking for the public's help in locating a suspect wanted on charges of theft. According to a PBSO report, on Monday, March 10 at approximately 2:43 p.m., an unknown man entered the Lens Crafters store on Forest Hill Blvd. in Wellington and stole more than $3,000 in designer frames.
The suspect is described as a black male, approximately 6' tall and 200 lbs., with brown eyes and short black hair. He was wearing a white button-down shirt with red or pink skinny jeans and tan shoes. According to the report, he also had noticeable braces on his teeth.
If anyone can identify the suspect, they are urged to contact Crime Stoppers at 1-800-458-TIPS.