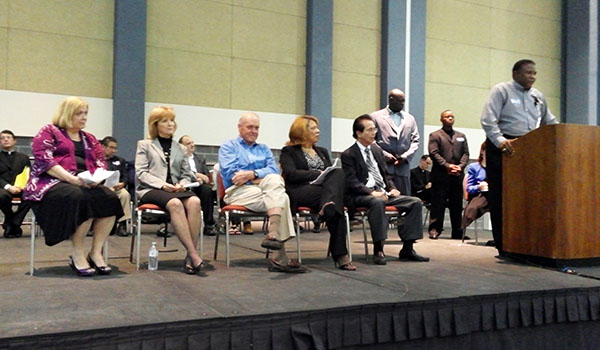 Numerous Palm Beach County officials met Monday with about 2,000 members of People Engaged in Active Community Efforts (PEACE) at the Palm Beach County Convention Center to address issues including driver's licenses for undocumented residents, unemployment in the Glades and out-of-school suspensions.
The event was attended by several county commissioners, a Palm Beach County Sheriff's Office representative, a member of the Legal Aid Society and Palm Beach County School District Superintendent Wayne Gent.
The group had mixed success at addressing the problems, as officials cited reasons that stand in the way of solutions.
PEACE's recent focus has been on problems that undocumented residents face as a result of not being able to obtain licenses.
Those residents are stopped routinely for driving without a license, and if they cannot provide proper identification, they are often arrested, according to Pastor Nestor Rodriguez of St. Ann Catholic Church in West Palm Beach. In jail, they are subject to detainment from Immigration & Customs Enforcement (ICE) and potential deportation.
"Good people are being arrested and deported for nothing more than a traffic violation," Rodriguez said, explaining that deported individuals are often separated abruptly from their families.
Rodriguez, who recognized the PBSO's outreach efforts through youth and other programs, asked for PBSO support for an effort at the state level to pass a law to allow undocumented residents to obtain licenses.
"Eleven states now have laws like this," he said. "We want to do everything we can do to help Florida become the 12th state."
In the meantime, PEACE asked that the PBSO set a policy limiting the county's compliance with the federal Secure Communities policy so that people who have nothing more on their records than driving without a license and other low-level offenses not be detained or deported.
They also asked that the PBSO no longer arrest a person whose only charge is driving without a license or driving with an expired license, if the person can provide adequate identification such as a consular ID or passport.
PBSO Chief Deputy Mike Gauger said his agency would support state legislation to allow undocumented residents to obtain licenses, and would take steps to curtail arrests of persons who are driving without a license if they can provide other ID and have no record of higher-level offenses, but stressed that the PBSO is not in a position that it can interfere with ICE officials.
"It's a federal issue, and we need to work with our federal government to come up with a comprehensive plan," Gauger said.
He pointed out that it is the policy of the PBSO to arrest any person, documented or not, for driving without a license.
Jill Hansen of PEACE said that since 2010, ICE officials have been giving out information that it is mandatory for local communities to participate in the Secure Communities policies under which undocumented people can be detained, but it is no longer mandatory, she said, pointing out that the U.S. Court of Appeals had ruled the policy is unconstitutional.
The other issue the assembly tried to address was unemployment in the Glades, asserting that it had seen many examples of Glades contractors not receiving the benefits of county projects.
PEACE asked the five county commissioners attending — Shelley Vana, Paulette Burdick, Hal Valeche, Jess Santamaria and Mayor Priscilla Taylor — to direct staff to research the number of Glades businesses that received county contracts in the past five years, and the number of Glades residents who were actually hired to work on the projects.
PEACE also asked them to instruct staff to bring them the research within three months with recommendations to increase those numbers.
Santamaria agreed, saying that as the District 6 commissioner, it had always been his policy to support the Glades.
Taylor said the commission could direct County Administrator Bob Weisman to come back with a report in three months. "I don't feel it's unreasonable," she said. "We will ask for it, and hopefully we can get it within three months."
However, Valeche, Vana and Burdick said that they had been told that records of Glades contractors and employees might not be available.
Vana added that Weisman told her records of Glades contracts and employees might be kept in the future. "We may not be able to fix the past," she said.
Reviewing previous PEACE initiatives, Legal Aid Society of Palm Beach County Executive Director Bob Bertisch said the PEACE initiative-motivated Wage Recovery Program was successful in its first year, recovering more than $200,000 in wages that employers had tried to withhold unfairly from workers.
In January, county commissioners extended the Wage Recovery Program contract with the Legal Aid Society another year.
In the area of out-of school suspensions, Father Paul Rasmus of St. Andrew's Episcopal Church in Lake Worth said PEACE set out to reduce out-of-school suspensions because children are much more likely to misbehave during their suspensions, are often unsupervised, and are much more likely to be arrested and feel further disconnected with their school.
"Last year, Superintendent Gent agreed in front of our 1,400 PEACE members to address that trend and drastically reduce out-of-school suspensions," Rasmus said. "So far this year, our children have spent over 18,500 more hours in the classroom learning, and almost 8,000 fewer of our children are missing school spending time unsupervised."
Gent said the number of high school suspensions has fallen by more than 40 percent in the past year.
ABOVE: Rev. Robert Rease of St. John First Missionary Baptist Church of Belle Glade addresses the PEACE assembly as county commissioners look on.