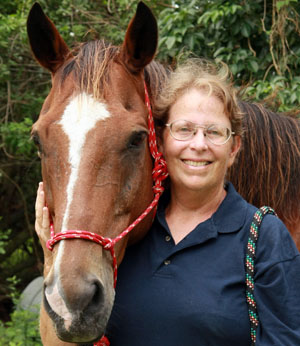 TALES FROM THE TRAILS
What if there was a horse show where everybody won?
On Saturday, March 22, approximately 80 riders, 30 horses, 40 volunteers and a whole host of family members, well-wishers and supporters gathered under the huge covered arena at Palm Beach International Equestrian Center Stadium on South Shore Blvd. for the Special Olympics Area Games. The weather was threatening elsewhere, but the sun shone on this part of Wellington.
The arena had been split into two separate class areas: one for equitation, one for the trail and speed events. The classes were held simultaneously. Horses clomped through on their way to classes, sometimes ridden solo, sometimes accompanied by front and/or side walkers. Spectators sat in the bleachers and applauded. There was a lot of applause.
"We've never done an event this large," said Ruth Menor, executive director of the Vinceremos Therapeutic Riding Center, the event's main host and organizer of the show. "In the past, it has been just Palm Beach and Broward counties. This year, we added St. Lucie and Indian River. This is a big show; a little overwhelming."
Indeed, it was the area qualifier. The winners had a chance to compete at the state show in Orlando in May, and then those winners move on to the nationals. Each rider chose two events to enter: an equitation class and a trail or speed class. Pole bending was the speed class: weaving through a line of upright PVC poles spaced down the center, then weaving back through. The trail obstacles included trotting from point A to point B, retrieving a letter from a mailbox, riding a figure eight and negotiating a maze of poles laid on the ground.
"Our riders are grouped by ability rather than by age," Menor explained. "There are three levels of competition. 'A' riders can ride independently at the walk, trot and canter. 'B' and 'C' riders need varying amounts of support and only walk and trot."
The Special Olympics are open to competitors ages 8 through adult.
"All the riders must have an intellectual disability and may also have physical impairments," Menor said. "Not all of the Vinceremos riders qualify for the Special Olympics, so we hold other special events for them, such as the Competitive Trail Ride at Dupuis on April 12-13, in conjunction with the American Competitive Trail Horse Association."
In addition to Vinceremos, four other riding groups participated: Equine Assisted Therapies out of Trade Winds Park in Coconut Creek, Special Equestrians of the Treasure Coast from Indian River County, Destiny Bound Boarding Stables from Port St. Lucie and Funies Foundation from Southwest Ranches in Broward County.
Rosalinda Bustamante, head coach at Funies, was impressed by the event. "It's a beautiful venue, and a very well-organized show," she said. "They did an amazing job. Everyone is having fun. Our kids have only been practicing for the show for a couple of months. We have both regular kids and special-needs kids riding together at our barn in an integrated program. They're all the same to us. I think the special-needs kids have more fun at shows. For them, it's great just being around the horses and participating. Every ribbon is just as wonderful as every other ribbon. But for the regular kids, they're more focused on winning the blue."
Sarah Ramer, 28, was one of the Funies riders. She was supported by her aunt and uncle, Gayle and Eric Jacobs.
"Participating in events like this are wonderful for Sarah," Gayle said. "The people, the animals, the camaraderie and learning to follow directions. It's great for the kids and for the families. There's so much positive feedback. When we're all brought together for an event like this, you have the feeling that you're not alone in having to deal with a lot of issues."
She feels these type of shows are great her for her niece.
"My sister, Sheila Ramer, and I pushed for it," Gayle said. "It brings us all together. When Sarah participates in shows like this, surrounded by other riders and families with similar interests, it's healing. You're surrounded by kids and families having fun. Everyone gets involved."
"Riding has a calming effect on Sarah," Eric added. "And it gives her a sense of empowerment, being high up on the horse and controlling him. Showing in classes creates discipline. When you have a disabled child, you experiment with different activities and then determine which ones your child has an affinity for. Focusing on it creates a positive synergy within the family."
Three teams participated in a drill team competition. The music played, kids danced along the sidelines and horses and riders moved through their patterns, forming pairs, riding singly, tracing circles and serpentines.
Vinceremos' team of six riders and horses was a unified team: three regular riders, three special-needs riders. All rode independently at the walk, trot and canter to a mash-up of '80s tunes. Coach Cassidy Hoff rode Hidden Creek's Jones, a huge, 16.3-hand Warmblood.
"He was Margie Engle's open jumper," Hoff explained. "He was 2003 American Grand Prix Association's Horse of the Year. She retired him after an injury in 2009, but he hated standing around in the pasture, so she donated him to us. She thought he had the brain to be a therapy horse, and he has been excellent, especially for some of our larger riders. He holds us to a higher level of training. He does everything. He knows and loves his job."
Beth Wood attended with her son, Brandon Boterf, who rides at Vinceremos and competed in equitation and pole bending.
"This show is awesome, and the venue's fantastic," she said. "Everything's run so well, very organized, safe, relaxed and fun. The kids love riding and watching everyone else. At Vinceremos, everyone rides on different days and at different times. Here we can all be together and catch up. That's one of the best aspects about a show like this, being in a large social event where everyone supports everyone else. No one cares about winning. Here, we all share each other's successes."
A show where everybody wins.