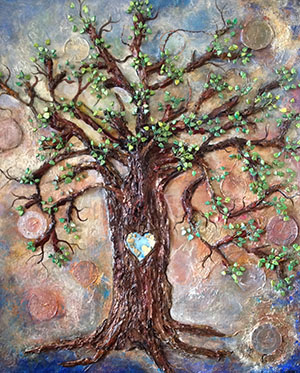 Local artist Sandra Birriel Barbieri is the featured artist at this month's Whole Foods Gallery. An opening reception will take place Friday, April 11 from 6:30 to 8 p.m.
The gallery at Whole Foods Market in Wellington is in the large café, lined with windows offering nice natural lighting — a perfect setting to display art. Whole Foods will provide music, appetizers and drinks.
A $5 donation is requested to benefit the Wellington Art Society's scholarship fund.
Barbieri was born in Montevideo, Uruguay and she currently lives in Wellington. She is a self-taught artist, and through art she found her soul's purpose.
"I love to paint because it makes my soul soar, dwelling in happiness," she said. "I found the true connection with the unlimited source of creation. I get inspired with all the gifts that Mother Nature gives us every day."
Barbieri uses vibrant colors and rich textures that bring beauty and uplifting energy.
"Each painting is a journey, a joyful expression of beauty and love," she said. "My goal is to create awareness of the real treasure, which is our planet, because the choices that we make today will determine the future that our children will inherit from us."
She is also an author and a children's book illustrator. In her book Cristal and the Secret of the Enchanted Forest, she brings forth the message of caring and protecting the planet, leaving a legacy of love and values for generations to come. For more information, contact her at gifts4yoursoul@live.com or (561) 860-5121.
Founded in 1981, the Wellington Art Society is open to artists of all mediums and patrons of the arts, providing both local and regional artists the platform to share their work, learn more about their craft and serve the community through their art.
A nonprofit charitable organization, the mission of the Wellington Art Society is to educate and encourage originality and productivity among its members and area youth through programs designed to further the advancement of cultural endeavors in Palm Beach County.
For more information, visit www.wellingtonartsociety.org or wellingtonartsociety.blogspot.com.
ABOVE: Once of the creations of Sandra Birriel Barbieri, the featured artist at Whole Foods Market this month.