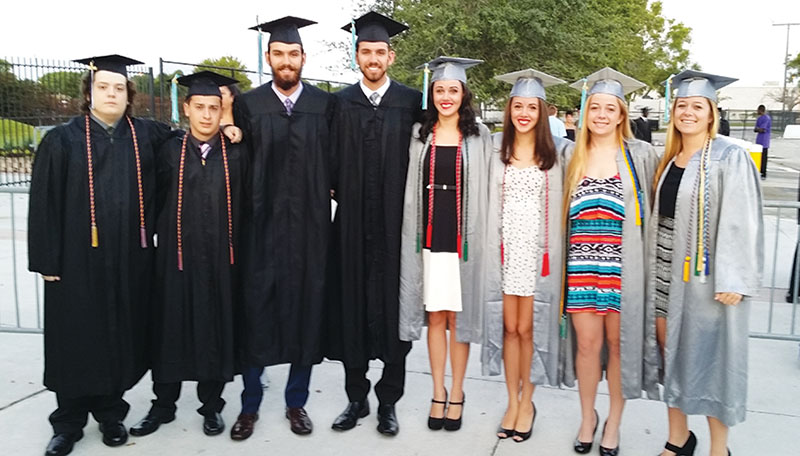 Each of us has a unique talent or skill to offer — that was the message bestowed upon Royal Palm Beach High School graduates Monday at the South Florida Fairgrounds Expo Center. As they turned their tassels, the 486 graduates were encouraged to find their passion and share it with the world.
"In my years attending Royal Palm, I have observed a multitude of talented athletes, dancers, singers, actors and mechanics, to name a few," Salutatorian Alexa Aguilar said. "Whatever your talent is, find it, own it and learn to love it. Finding your talent and having the passion for it is the key to your success."
SEE VIDEO SLIDESHOW FROM RPBHS GRADUATION
The Class of 2014 will hold a special place in the heart of Principal Jesus Armas. "On Aug. 17, 2010, you and I walked the halls of Royal Palm Beach High School for the first time together," he said. "Each of us had our own sets of expectations for how the next four years would go."
Four years later, Armas said, he couldn't be prouder.
"You're all here, and I am, too," he said. "I am proud to say that for the first time in the 17-year history of this school, a class will graduate from Royal Palm Beach High School having had only one principal."
He said that getting all 486 graduates there that morning was a testament to the parents, guardians and other loved ones in each student's life, as well as the caring faculty and staff at RPBHS.
"Thank you for supporting your children throughout their years of school, and especially these four years of high school," Armas said. "Thank you for allowing Royal Palm Beach High School the honor of educating your child."
Valedictorian Anastasia Colas reminded graduates that bad moments in life do not make for a bad life. She recalled a day she skated to school, only to find that she'd forgotten shoes to change into. Though her day started on a sour note, when she returned home, everything changed.
"I found my Duke University letter on the table," she said. "I figured my day couldn't get any worse, so I opened it. To my absolute joy, it said I was accepted. I couldn't have been any happier."
Colas, who will attend Duke University on a scholarship to study neuroscience, said the events taught her not to let a bad experience get her down.
"That experience showed me that a bad morning doesn't necessarily translate into a bad life, a bad week or even a bad day," she said.
She encouraged her fellow classmates to look for the silver lining. "No matter what situation you find yourself in, pat yourself on the back," she said. "Be proud of yourself. This is our time. Today is a great day. We are leaving here as adults, stepping into the real world, and we're going to make a difference."
Colas graduated with a 5.03 HPA and 470 hours of community service. She chartered the RPBHS Recycling Club and was a member of the National Honor Society and the National Spanish Honor Society. She won the College Board AP Scholar with Distinction Award and the Delta Sigma Theta Academic Excellence Award. She was also the first-place winner in the Max Planck Brain Bee.
Aguilar said each of her classmates has a unique intelligence and a gift to give to the world. "We are smart," she said. "Every single one of us here is smart. Just because you're not up on stage with me doesn't detract from the fact that you are intelligent."
Each graduate should be proud to walk across the stage, Aguilar said.
"We are gathered here today for one reason and one reason only, that diploma, that piece of paper we've been working tirelessly toward since we first brought our lunchboxes and light-up sneakers to kindergarten," she said. "That day is here. You should all be proud. The amount of support we have from family, friends, faculty and students is absolutely heartwarming."
Aguilar graduates with a 4.52 HPA. She was the captain of the RPBHS swim team, a member of National Honor Society, Future Business Leaders of America and Students Against Destructive Decisions. She received the College Board AP Scholar with Honor Award.
Additionally, Aguilar has been awarded more than $100,000 in scholarship funds. She will attend the University of Miami where she will study computer science with a concentration in graphics and gaming.
Palm Beach County Superintendent E. Wayne Gent said each graduate will leave his or her own unique mark on the world.
"We are all unique, and although we share this moment together, you're like a box of fireworks about to be ignited," he said. "The colors, the effects, the noise and the direction you are about to take from here will light up the sky. You will do this in different ways, with different colors. Nevertheless, you will be awe-inspiring in your own ways."
The graduates will be the director of their own futures, Gent said.
"Only you will be able to decide how you want to light up the sky," he said. "The wonderful thing is that you have choices, and the possibilities are endless. Those possibilities are what we are celebrating here today."