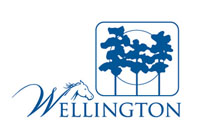 Concerned about the loss of some of their trees planted along canals, residents of Larch Way came out Tuesday night to ask the Wellington Village Council to reconsider plans to cut 25 feet from the canal behind their homes.
During public comment, several homeowners expressed concern that Wellington would be cutting down mature foliage, not just invasive trees. "There's a lot of confusion about what is going on," resident Doug Terry said.
Terry said that eight to 10 years ago, Wellington tried a similar program to reclaim the canal bank. "The whole council came out to our canal and decided it was really adverse to the community," he said. "It seems they just put it off, and here we are again."
Originally, Terry said he was told that Wellington would be removing only the Brazilian pepper and Australian pine trees. "I thought that was a good idea," he said.
On April 29, Terry said he spoke with his neighbor, who noted that her ponytail palm tree had been tagged for removal.
"[Public Works Director] Mitch Fleury decided he was going to reclaim the easement," Terry said. "They're going to use a barge to dredge the canal. The barge is in the water, not on the canal bank, not 25 feet into the easement. It's just beyond understanding that they could be allowed to just clear-cut everything and not take into consideration the residents who pay more to live on the canals and waterways."
He said removing all the foliage would change the character of the neighborhood. "It's beautiful, and they want to make it into a drainage ditch," Terry said. "I think it's going to depreciate the value of the properties."
Although the property technically belongs to the Acme Improvement District, Terry said he has maintained it for more than 30 years. "I just have the right of enjoyment, and they're going to take that away from me," he said. "I don't think that's right."
Councilwoman Anne Gerwig noted that she met with Terry and other neighbors. "I explained it is the right-of-way, it's not the easement," she said. "We're not reclaiming the easement. My personal viewpoint is if we don't have to take the trees out, then why would we? But if we do, then what are we bringing in there?"
She suggested calling a public meeting to address residents' concerns. "If there's a way to do this without disrupting all these trees, then we should know," Gerwig said.
Village Manager Paul Schofield said he would put together a public meeting. He said Wellington has recently started maintaining its canals, necessitating the tree removal.
"To the best of our ability to determine, prior to 2008, there hadn't been much maintenance of our canals," he said. "Most of them haven't been deepened or widened, and they are drainage canals. What we're talking about is a right-of-way, and it's up to the council whether you want to remove those trees or not. But if we don't remove them, there is no practical way to return those canals to their designed sections and let them flow water."
Schofield said councils in the past have decided to widen canals, especially in the wake of storms. "What we've done in the past five years is to put in maintenance schedules for our roadways and our canals," he said.
Fleury apologized to residents for confusion about the trees but noted that his goal has been to improve the drainage system in Wellington.
"It was in dire need of improvement," he said. "I began immediately cleaning canals and culverts, and it's amazing what we found in them. This canal here has never been cleaned or dug since its inception."
Already, Wellington has cleaned and cleared miles of canals. "Our goal is to get the system back to its original design to get the ultimate stormwater conveyance," Fleury said.
Schofield said Wellington would meet with residents to better communicate.
"It's never an easy thing," he said. "But we'll certainly go out and meet with residents and show them what we're doing. To be quite blunt, I can tell you that my recommendation is going to be that we restore the design section of the canals to make them convey water, but that will be a decision the council is going to make."
Terry said he didn't want to see action without talking to residents.
"Maybe residents would be willing to pay a bit more to use a barge," he said.
Schofield said he would set up a meeting to discuss the issue with residents.